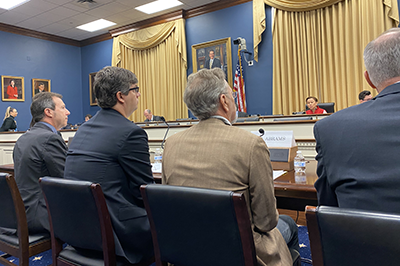 At a Congressional hearing last week, members of the full U.S. House Small Business Committee explored how federal programs could be optimized to meet the lending needs of employee-owned businesses, including worker cooperatives.
Featuring testimony from NCBA CLUSA members National Cooperative Bank and South Mountain Company, along with Folience and Messer Construction Co., the hearing amplified the need for greater access to capital, better outreach and education around employee ownership, and more technical assistance for retiring business owners—and prospective employee-owners.
As a major stakeholder in this policy conversation, NCBA CLUSA submitted written testimony to the Small Business Committee, noting that employee ownership is "timely and critical to the future health of our economy and local communities." Read the full testimony.
"What we do here impacts the lives of nearly every American"
As nearly 2.5 million baby boomer business owners prepare for retirement over the next decade, the need for a clear pathway to employee ownership has never been more crucial, or more bipartisan. Without a succession plan or a qualified buyer, those businesses will end up selling to a competitor or private equity group, or simply close—to the detriment of their communities, which would lose access to long-relied upon goods and services.
"Because small businesses are such an important part of our economy, what we do here impacts the lives of nearly every American," House Small Business Committee Chairwoman Nydia Velazquez (D-NY) said in her opening remarks. "At a time when income and wealth inequality are at record levels, real wages for middle-class workers are nearly stagnant and retirement security is no longer guaranteed, one way to combat this problem is through the employee-owned business model."
Rep. Velazquez, who authored the Main Street Employee Ownership Act in coordination with Sen. Kirsten Gillibrand (D-NY) in 2018, reminded the hearing of Congress' intent when passing that legislation: to reduce barriers to accessing capital and ease the U.S. Small Business Administration (SBA)'s "burdensome" personal guarantee requirement. Regrettably, accessing SBA lending programs remains "nearly impossible" for employee-owned businesses, Velazquez said.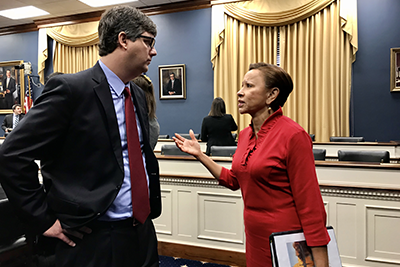 Testifying on behalf of NCB, R.L. Condra, Vice President of Advocacy and Government Programs for the cooperative lender, told the committee that the co-op sector has been asking SBA to "level the playing field" for more than a decade. "Instead, they proposed new hurdles for retiring business owners to convert their businesses to a cooperative," he said, citing one recommendation from SBA's Report on Cooperative Lending that would require a selling business owner to provide a personal guarantee for the life of the buyer's loan.
Additionally, Condra noted, the SBA's guarantee requirement is contrary to industry practice for cooperatives. Over the past 40 years, NCB has provided more than $2 billion in loans to cooperative businesses without requiring a personal guarantee for consumer and worker-owned co-ops due to their unique ownership structure. Similarly, neither Community Development Financial Institutions (CDFIs) nor the U.S. Department of Agriculture (USDA)'s Business and Industry Loan Guarantee Program require personal guarantees from cooperative member-owners. This means a group starting a worker co-op in rural Tennessee could obtain a loan guarantee from USDA, but if that same group wanted to start a worker co-op in downtown Knoxville—outside of USDA's designated "rural" jurisdiction—the SBA would decline to guarantee the loan, making it less likely for lenders to provide the capital needed for the cooperative business.
"Ownership is powerful"
Last week's hearing provided a critical platform to lift up the benefits of employee ownership before elected officials. John Abrams, founder, president and CEO of South Mountain Company—an integrated architecture, engineering, building and renewable energy company—said South Mountain's decision to restructure as a worker co-op more than 30 years ago has been critical to their success.
"Worker ownership has been far more meaningful and valuable than I ever imagined," Abrams said. "Ownership is powerful. When employee-owners are making the decisions, it's more likely that companies will stay rooted in place and be positive forces in the community," he added.
"When employee-owners are making the decisions, it's more likely that companies will stay rooted in place and be positive forces in the community." – John Abrams, South Mountain Company
Rep. Ross Spano (R-FL) agreed. "Before coming to Congress, I owned a small business for 13 years and the entire time, I used an employee-ownership model. I found that by giving employees stake in the business, it not only allowed them to feel more invested in the business, but it also motivated them to succeed," he said.
Still, Rep. Spano had questions about whether employees are equipped to make tough decisions when circumstances demand. Abrams responded with a powerful story. In 2008, he said, South Mountain employee-owners agreed to a 20 percent across-the-board reduction in pay to avoid layoffs during the Great Recession. "That was a pretty tough business decision to make, and we were in it together."
Rep. Troy Balderson (R-OH) said he had observed that the higher wages, better working conditions and flexible hours at employee-owned businesses all contribute to lower turnover. Chairwoman Velazquez echoed that business sustainability factor and added that the impacts on employees are even more compelling. "It's an unbelievable feeling for workers to know that they are invested in their companies as owners," she said.
"It's important that we get it right"
After questions from numerous lawmakers, Chairwoman Velasquez asked whether the witnesses felt the SBA was taking steps to establish an employee ownership and cooperative promotion program administered by its nearly 1,000 Small Business Development Centers (SBDCs) nationwide.
America's SBDCs offer free in-person business consulting and at-cost training on topics like business planning and access to capital. The Main Street Employee Ownership Act directs this network to provide outreach and educational materials on worker co-op conversions.
"We've had zero communications on the creation of this program," Condra said, adding that efforts to create such a program without the input of co-op organizations and development centers nationwide would be duplicative.
"I'm holding a roundtable with the SBDCs network today, so I'll be raising this issue with them," Velasquez said. "It's important that we get it right, and it is important for the Small Business Administration to understand the role that they could play."
Next steps
NCBA CLUSA will continue to work with Congressional leaders to ensure that SBA carries out the Main Street Employee Ownership Act as Congress intended—to fully incorporate cooperative ownership into SBDC programs and ensure that cooperative businesses can access SBA financing tools like all other small businesses can.
Read South Mountain Company's full testimony.