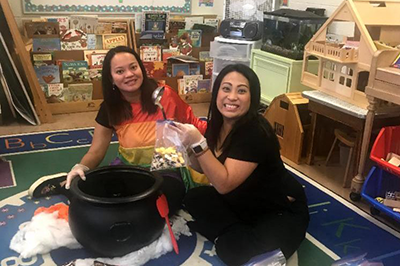 In most U.S. states, the cost of childcare has now surpassed tuition at a four-year public university. In partnership with YouGov, the New York Times Parenting last year reported that parents spend a median of $400 per month on childcare, with 22 percent of parents spending upwards of $1,000 per month.
This lack of access to affordable, high-quality childcare means families with young children face tough decisions: should they spend a significant portion of their incomes on childcare, seek out a cheaper but likely lower-quality care option, or leave the workforce altogether to become a full-time caregiver? In 2016 alone, an estimated 2 million parents in the U.S. who faced this conundrum ending up making career sacrifices.
Innovative, affordable and inclusive of parents, cooperative childcare is providing another option. Initiated in 1916 by a group of faculty wives at the University of Chicago who wanted to volunteer with the Red Cross but lacked access to childcare, the movement is now represented by Parent Cooperative Preschools International (PCPI), a council of cooperative preschools in the U.S. and Canada founded in 1960.
The council supports and encourages parental involvement, participation and education in early childhood development program—it's what makes the model distinct. At a parent cooperative preschool, parents serve as board members—hiring teachers and setting tuition—and act as co-teachers in the classroom one day per week. The model allows for direct impact on a child's education and builds community and trust among like-minded parents.
As part of our focus on access this January, we sat down with Leta Mach, a former president of the council who now serves as its Vice President of Resources, overseeing PCPI's publications and exploring new opportunities. Excerpts are edited for length and clarity.
NCBA CLUSA: PCPI represents a network of 50,000 families and teachers across the U.S. and Canada. What are the benefits of membership?
Leta Mach: We provide access to a variety of resources for cooperative preschools as well as a curriculum focused on hands-on experiences in creative arts, music, science, literature and language all geared toward children's needs and developmental levels. We have Yahoo and Facebook groups our members can join and post questions, and other members can give advice or explain how their co-op preschool approached a particular issue. Beyond information sharing, learning and education, we offer a number of grants. One of our founders, Becky Allen, a member of the Cooperative Hall of Fame, really believed strongly in parent education. In her memory, we offer a grant that supports parent education projects in our member schools.
NCBA CLUSA: How does PCPI raise awareness of the cooperative preschool model?
Mach: If someone is looking for a preschool co-op, we can tap into our membership and refer them. If there isn't a preschool co-op nearby, we suggest they form their own if they have enough interested parents in their neighborhood. It's not hard to form a preschool co-op, and we provide on-going support to families, educators and social agencies who recognize the value of parents as teachers and the necessity of educating parents to meet the developmental needs of their children. Fundamentally, we are very firm believers in the whole idea that preschool children learn from playing. To me, that's access to knowledge. We do not believe a three-year-old should be left sitting in front of a TV or computer—that's not how they learn. By playing together, preschoolers become cooperative and learn how to work with others.
NCBA CLUSA: What are some of the new projects on the horizon at PCPI?
Mach: Our newest initiative is the Cooperative Spirit Grant that supports parent-led community projects in our member schools. These projects are designed to make their school a better place for their children, build community and leave a legacy for future classes. Last year, we got so many great ideas that it was really hard to choose a winner. Winners provide information about how their project came about and get highlighted in our newsletter, Cooperatively Speaking, to spread the knowledge. Last year, one of the ideas was creating a butterfly garden to attract monarchs and teach kids about the importance of nature in the classroom.
NCBA CLUSA: What challenges does PCPI face and how have you overcome them?
Mach: We are a volunteer organization and our members range from Canada and the U.S. Pacific Northwest to Washington D.C. and really across
the country. We only have enough funding to meet once a year for our annual conference, so we have to conduct a lot of business by conference call or email. I do think that we're very fortunate to have two members in the Cooperative Hall of Fame: Rebecca Allen, the founder of Parent Cooperative Preschools International who helped develop the government's Head Start program and was responsible for including parents as decision makers and staff; and Catherine Whiteside Taylor, who pioneered the U.S. cooperative preschool movement. These women really embody the spirit of cooperation and demonstrate the impact this business model can have on families and communities.
NCBA CLUSA: What does the future look like for preschool co-ops?
Mach: Cooperatives are the future of sustainable business, absolutely. Because they're member-owned and democratically controlled, the money they generate stays in the community and is revolved around the community six times over, rather than going to some stockholder in another state. I would encourage people—whether they're shopping or looking to start a business—to look to the cooperative model. Why not become a part of the business you use and really have a say in how it's run?