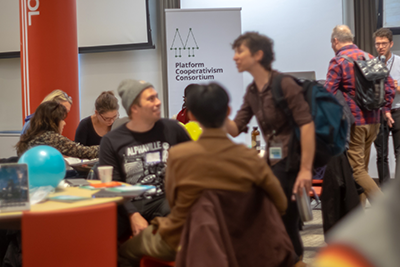 COVID-19 is devastating job prospects for young Americans. In just three months, the unemployment rate for this group (defined as 16- to 24-year-olds) went from 7.7 percent to 25 percent. As with many things, COVID-19 did not necessarily create the challenges of finding decent work for young people, but it has certainly exacerbated it to a crisis level. And the challenge is even greater for marginalized communities of color and those who live in remote rural areas.
Meanwhile, gig workers—who typically trend younger and were already experiencing precarious employment—have been forced to bear much of the brunt as businesses and households slash spending. Between 25 and 40 percent of the workforce does at least some work within the gig economy; the COVID-19 experience has only accelerated the ubiquity of gig work and, along with it, decreased workplace benefits, job security and increased potential for exploitation.
At the same time, there has been a new recognition of how virtual work can be a truly effective way to conduct business. People are using platform technology to collaborate, share ideas and get a level and quality of work done that many firms had thought could only occur in person, in an office. Meanwhile, many office workers are realizing how much they appreciate substituting family time for commute times, or walking their dog instead of sitting at a stoplight.
The youth employment crisis, coupled with an awakening of the advantages of remote work, presents some major questions. Cooperatives need to be part of the answer. In a prescient report delivered two years ago, a sector of the International Cooperative Alliance published "Global Study on Youth Cooperative Entrepreneurship." The report found that "in a world of work deeply reshaped by demographic changes, globalization, technological innovations and youth unemployment, cooperatives can be a concrete tool in the hands of young people for improving their work and entrepreneurship conditions."
Cooperatives can be a concrete tool in the hands of young people for improving their work and entrepreneurship conditions.
One of the key strategies to help youth take advantage of this confluence of crisis and opportunity are platform cooperatives, which involve bringing the cooperative business model to "online applications or websites used by individuals or groups to connect to one another or to organize services," as defined by the Platform Cooperativism Consortium.
As a cooperative community, we would do well to look to the recommendations of the ICA study when thinking about how young people can become more involved in today's cooperatives and help define the future of the movement, including the following:
Increase awareness of the cooperative business model among young people
As generations of young people lose faith in many traditional institutions, they are ready for strategies that provide them meaningful work at workplaces that respect and value their voices. Some great examples of awareness-building already exist. The CHS Foundation has a target of exposing more than 10,000 young people to the cooperative business model with programs such as My Local Cooperative that provide resources to educators and others. The Cooperative Development Foundation hosts the Cooperative Leaders and Scholars Institute that provides young leaders and post-secondary students the opportunity to participate in the national Cooperative IMPACT Conference and experience exclusive programming and networking. And student housing co-ops provide students exposure to cooperative governance and strategy for affordable housing.
Target technical assistance and education to younger people for co-op development
Realizing the critical need to increase the number of people who can establish platform cooperatives, the Institute for the Cooperative Digital Economy (ICDE) at The New School; Mondragon Co-op, the world's largest worker co-op; and MTA-Mondragon University are collaborating on an eight-week online course called Platform Cooperatives Now. The course is designed to introduce, incubate and accelerate platform cooperatives around the world. In another example, Start.coop uses the incubator model to accelerate the next generation of cooperatives by bringing together cooperative entrepreneurs. These efforts build on the existing network of co-op developers across the U.S. Yet a common refrain in the co-op community is the need to increase offerings in post-secondary, business and law schools.
Support legal frameworks that support young people who want to create co-ops
While the federal government has a long history of helping people to create cooperatives, the federal policy scaffolding is in sore need of updating. And more and more state and municipal jurisdictions are waking up to the wisdom of creating policies to enable people to use cooperatives to build more inclusive economies. Key policy strategies include:
Supporting specialized technical assistance
Increasing financing for early-stage cooperatives
Facilitating the ability of gig workers to access more traditional workplace benefits through cooperatives
We have great examples of awareness-building, technical assistance and legal frameworks, but we must bring these ideas to scale. A generation of younger workers is ready and waiting to transform their businesses and workplaces through the cooperative business model. The lack of viable career paths for youth is one of this generation's greatest crises. Cooperatives can—and should—be one of their greatest opportunities.
—Doug O'Brien is president and CEO of NCBA CLUSA, where he works with the cooperative community to deepen its impact on the economy.