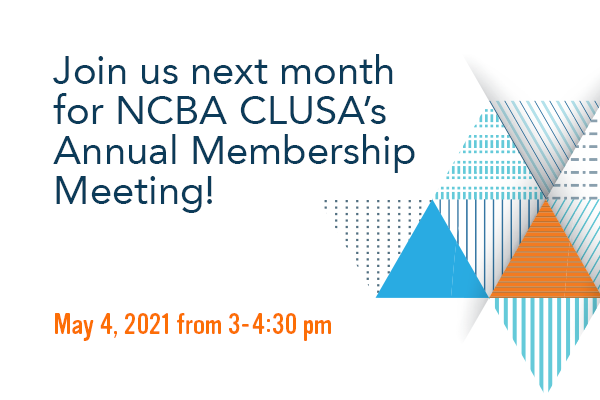 Register now for NCBA CLUSA's 2021 Annual Membership Meeting for a chance to win one of 15 $25 Cabot Creamery gift boxes and one of five complementary registrations to this October's Cooperative IMPACT Conference.
This year's Annual Membership Meeting will be held virtually on Tuesday, May 4 from 3-4:30 pm, followed by a virtual networking and community event. Note that you must be present to be eligible for giveaways!
This annual member event is a key opportunity to stay up-to-date with the broader co-op community and help define how cooperatives are building a more diverse, equitable and inclusive economy.
In addition to messages from NCBA CLUSA's Board Chair Erbin Crowell and president and CEO Doug O'Brien, we'll hear a report from the Membership Growth Task Force, celebrate the winners of the Cooperative Development Foundation (CDF)'s 2021 Co-op 5K and announce the results of the 2021 Board of Directors election!