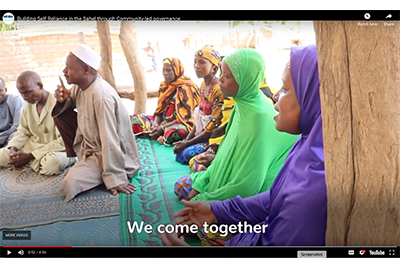 Villages in Zinder Region, Niger are facing incredible challenges, but with support from the USAID-funded Resilience in the Sahel Project-Enhanced Resilience (REGIS-ER), implemented by NCBA CLUSA, they are achieving self-reliance, preparing for crises and building healthy communities.
Watch the video below to learn how the project is connecting village groups through a community-led governance model called Citizen Working Groups, providing a way for communities to identify and discuss their needs and, together, find solutions and resources.
In Tilla Village, community members identified sanitation as a key priority to reduce the spread of disease. A community-led hygiene and sanitation strategy has since reduced the cases of diarrhea and malaria in the village. Their Citizen Working Group helped them stay accountable and even share best practices throughout the region.
In other villages, local resilience activities like savings and loans, restoration of degraded lands and home gardens connect to the commune government, and receive support for activities through Citizen Working Groups.
Throughout the region, these groups are helping implement solutions to local challenges that are folded into broader regional and national development plans.
Learn more about NCBA CLUSA's approach to Building Resilient Communities.