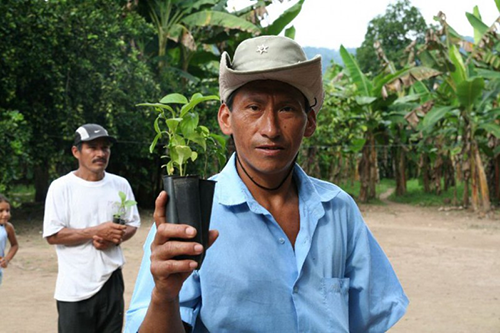 The November 23 publication of the "Fourth National Climate Assessment" forcefully reminds us of one of our generation's most pressing challenges: climate change.
The effects of our changing climate require us to consider new technologies, policy changes and economic strategies with which we can grow and create sustainability in our economy and resilience for our communities. More people should look to the cooperative business model as a preferred strategy to respond to this challenge.
Cooperatives feature specific advantages in this area. Co-ops provide their members goods and services at the best prices possible, often because other business models cannot or will not meet the need. They foster economic inclusion and help members realize their goals in more comprehensive ways.
Unlike other businesses, there are few incentives for cooperatives to seek short-term profits at the expense of longer-term benefits.
Sustainability is part of the DNA of cooperative businesses. As people-centered businesses, cooperatives reflect the values of their members. For many co-op member-owners, this means considering how their businesses can respond to and mitigate the effects of climate change.
Take for instance, the National Information Solutions Cooperative (NISC), an information technology cooperative owned by electric and telecom cooperatives that is working with electric cooperatives to make their grids operate more efficiently. This comes from technologies NISC develops that enable their members to monitor electric usage, identify potential savings and thereby make adjustments that save them money and reduce energy needs.
And America's Electric Cooperatives, which cover 75 percent of America's land mass, are converting more and more of their generation facilities to solar and other renewable energy sources. Many also work with programs like the Rural Energy Savings Program, run by the U.S. Department of Agriculture (USDA), to help their members improve the efficiency and comfort of their homes—both benefitting the members through increased savings and the environment through incremental improvements in overall energy usage.
Reflecting their members' priorities, food cooperatives prioritize environmentally sustainable practices. For most, this means sourcing their products from the most environmentally responsible producers and shortening supply chains by purchasing from local producers. Additionally, the food co-op members of National Co+op Grocers are diligently working to offset their carbon emissions. By planting and protecting 1.7 million trees in a specially reserved and protected "Co+op Forest" in Peru, food co-ops are working together to minimize their impact on our shared environment.
Internationally, cooperatives from more than 300 countries are working to achieve the United Nations' 17 Sustainable Development Goals (SDGs). One key goal is to take meaningful action to reduce and respond to climate change, including capacity building and encouraging greater resilience in the economies of the world's least developed countries.
Co-ops for 2030, established by the International Co-operative Alliance in 2016, educates cooperatives across the globe on the SDGs and asks them to pledge actions that will help achieve these goals. Cooperatives around the world have already pledged to increase renewable energy generation, sustainable sourcing and energy conservation.
As people-centered businesses, cooperatives have become a natural development strategy for work in regions of the world most at risk from climate change. At NCBA CLUSA, we pioneered development approaches driven by nutrition-led agriculture. Our "resilience approach" addresses critical points within a nation's socio-ecological system to bring about lasting positive change: strengthened governance capacity, improved land-use management and farming practices, and better health and nutrition.
This integrated and systematic approach continues to help the most vulnerable individuals and communities plan for, recover from and remain resilient in the face of shocks and stresses, including those caused by climate change.
These are just a few examples that show how cooperatives can uniquely equip people to deal with the challenges around climate change. There is a spillover effect: the democratic and notably effective governance structure of a local cooperative supports the establishment of strong governance structures in the community. These are better able to develop—and, in fact, do develop—land and natural resource management plans that govern the use of water, land and other resources to reduce environmental impacts, improve planning and protect natural resources and other local assets.
Cooperatives are the right strategy at this critical time. Solutions will require better use of data for the benefit of many, cutting-edge technologies adopted at scale, and smarter uses of resources—all activities that co-ops are well-suited to accomplish. I urge policymakers and thought leaders to enable more people to use cooperatives to transform the climate change landscape. Together, we can turn this generational challenge into an extraordinary opportunity.
—Doug O'Brien is president and CEO of NCBA CLUSA, where he works with the cooperative community to deepen its impact on the economy. Greg Irving is a research assistant at NCBA CLUSA.