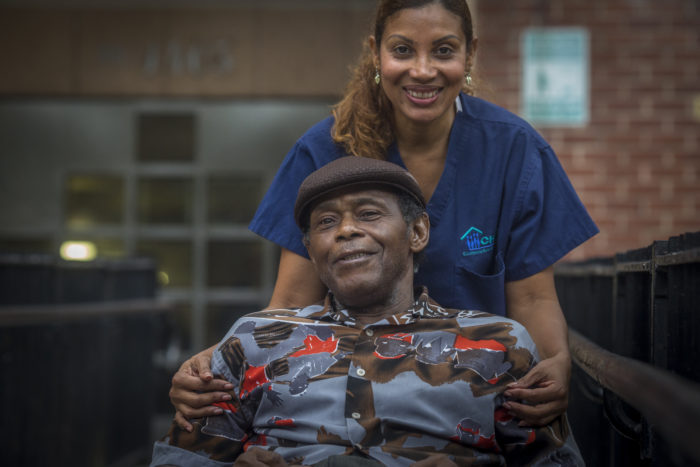 CDF is proud to support Dynamic Solutions for the Aging (Dynamic Solutions) through the Buyer's Journey Grant and the Home Care Cooperatives Grant Program for the necessary analysis to develop DC CareWorks Community Cooperative, a home care cooperative venture in Washington, DC.
Dynamic Solutions is a DC-based, Black woman-owned small business that is dedicated to creating an inclusive society where individuals 50 and over can thrive. This is done through projects such as the Legacy Collaborative Senior Village, Aging in Place Rowhouses in Baltimore, and the East Parkside Age-Friendly Village in West Philadelphia.
Devoted to the well-being of caregivers and clients, founder Dr. Katrina Polk has been a caregiver for almost 40 years. The low wages, lack of healthcare, and the devaluation of caregivers propelled Dr. Polk to think of innovative ways to elevate home care. This led to Dr. Polk partnering with Judith Levy of the DC Coalition on Long Term Care to start exploratory market analysis on cooperative development for home care. Preliminary findings show the dire need for home care workers and support services for family caregivers as some home care agencies in Washington, DC see an estimated 38% decrease in home health aides.
"As we progress through the start-up phase of the DC CareWorks Community Cooperative," said Dr. Polk "a point of reflection is 'Caregiving' has been labeled as 'women's work' throughout history, especially in slavery and for women of color."
The Buyer's Journey Grant allowed Dynamic Solutions to participate in the four-week workshop to examine the decision-making process of prospective clients selecting home care services and job applicants making employment decisions. Other Buyer's Journey grantees include Community Care Cooperative and Peninsula Homecare Cooperative.
"We hope to link family caregivers to support services, get direct care workers a Living Wage of $22 an hour, provide dignity, increase access and awareness of resources, and create ownership and wealth opportunities through a cooperative initiative," said Dr. Polk.
The Home Care Cooperatives Grant Program is part of CDF's Home Care Cooperative Initiative. This program provides funding for technical assistance and training for urban home care cooperatives. Other grantees include cooperatives such as eQuality Homecare and Circle of Life Caregivers Cooperative.