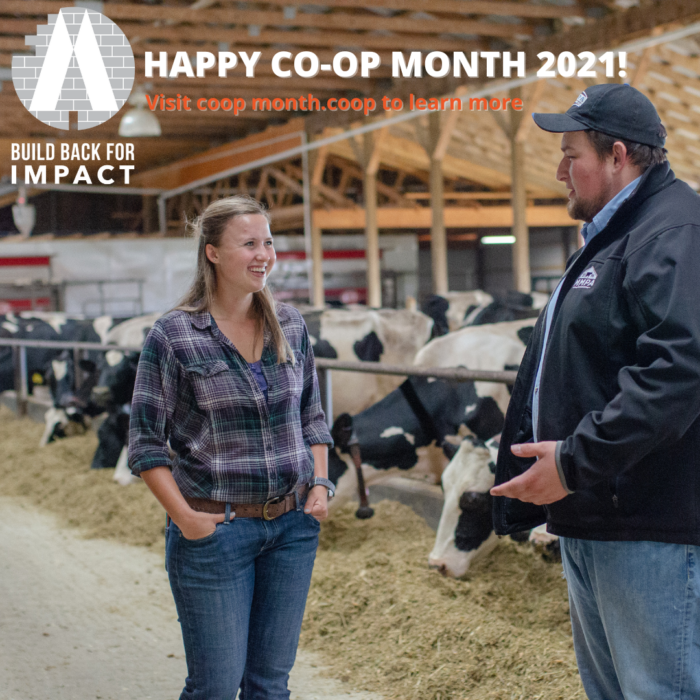 Co-op Month 2021 is right around the corner! Celebrated by cooperatives nationwide during the month of October, National Co-op Month is an annual opportunity to raise awareness of a trusted, proven way to do business and build communities.
Under the theme "Build Back for Impact," this year's Co-op Month is also a chance to leverage our shared cooperative identity in the face of some of the biggest challenges we face: a global pandemic, climate emergency and systemic racism. As we build back an economy that works for everyone, our biggest impact comes from embracing the values and principles that make us truly unique.
Resources for the 2021 Co-op Month are hosted by NCBA CLUSA at coopmonth.coop. You'll find downloadable logos, social media graphics, fun facts, and other resources to help your co-op celebrate this October.
Cooperatives nationwide are encouraged to use this year's theme and logo in their communication and outreach activities this October. Use the hashtags #CoopMonth and #BuildBackForImpact on social media to share how your cooperative is building back for impact. Tag @NCBACLUSA in your posts on Twitter, Facebook, Linkedin, and Instagram so we can celebrate you and your co-op on social media.
While you're getting ready to celebrate Co-op Month, don't miss your opportunity to attend the 2021 Cooperative IMPACT Conference. Join hundreds of co-op developers, financers, community and city leaders, innovators, economists, policymakers and international development practitioners—all committed to advancing cooperative enterprise. Register now to be part of the only national, cross-sector event elevating the national conversation around a trusted, proven way to do business and build communities. This annual event is an unparalleled platform to reenergize the cooperative movement and galvanize its champions around building a more inclusive economy.