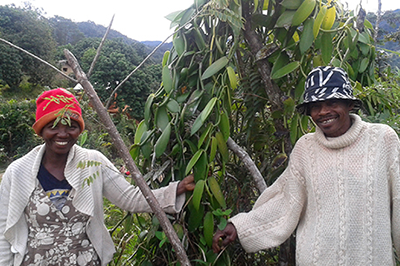 Leading up to World Environment Day on June 5, 2021, McCormick & Company employees around the world committed to help with forest restoration efforts in Madagascar, where 80 percent of the world's vanilla supply is produced. McCormick's goal is to plant one tree in Madagascar for each global employee–13,000 trees total.
Deforestation has impacted about 94 percent of Madagascar's forest lands, which are critical to growing sustainable vanilla. Known as a forest-friendly crop, vanilla is grown under 30 to 50 percent shade cover in agroforestry systems. The vanilla vine itself will grow on a live tutor tree and, ideally, will have secondary shade cover through a tree canopy. The trees that McCormick employees are sponsoring will be planted around the Marojejy National Park in the Sava Region of Madagascar, as most Madagascar vanilla is grown in the Sava Region.
Through its Purpose-Led Performance initiatives, McCormick has committed to sustainably sourcing its herbs and spices, beginning with 100 percent of its branded iconic ingredients, including vanilla, and to increasing the resilience of 90 percent of the farmers who grow its iconic raw materials by 2025.
McCormick is committed to its Purpose: To Stand Together for the Future of Flavor and encourages you to join us on this journey. If you'd like to support reforestation efforts in Madagascar, we encourage you to donate to the National Cooperative Business Association CLUSA International (NCBA CLUSA) in partnership with the Cooperative Development Foundation. For each dollar donated, one additional tree will be planted around the Marojejy National Park of Madagascar, contributing to restore this ecosystem's unique biodiversity.
McCormick & Company and the National Cooperative Business Association CLUSA International (NCBA CLUSA) have worked together for over 30 years to develop sustainable spice markets, improve the incomes of farmers and protect forest and biodiversity.
Our current project in Madagascar, Sustainable Vanilla for People and Nature (SVPN), co-financed by USAID and McCormick, will support 3,000 vanilla farming families to increase their income through sustainable vanilla production while conserving biodiversity and avoiding deforestation.
Thank you for helping us as we work toward A World United by Flavor–where healthy, sustainable, and delicious go hand in hand.