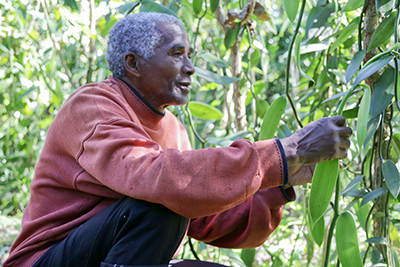 A new U.S. Agency for International Development (USAID)-funded project aimed at improving the livelihoods of 3,000 vanilla farmers expands NCBA CLUSA's collaboration with McCormick & Company in Madagascar, in addition to continuing our longstanding  partnership with the spice company in Indonesia.
Sustainable Vanilla for People and Nature (SVPN), a three-year, $3 million activity co-financed by USAID and McCormick, is part of USAID's Conservation and Communities Project (CCP). The SVPN activity is designed to conserve biodiversity, avoid deforestation and improve farmers' livelihoods through sustainable vanilla production in the Sava and Analanjirofo regions of Madagascar.
It also aligns with McCormick's Purpose-Led Performance initiatives, through which the company has committed to sustainably sourcing 100 percent of its five branded iconic spices and herbs, including vanilla, and to increasing the resilience of 90 percent of the farmers who grow their iconic raw material by 2025.
Madagascar—an island off the southern coast of Africa—is increasingly vulnerable to climate change and extreme natural events. Because 85 percent of Madagascar's people derive their livelihoods from climate-sensitive agriculture, most of the population is exposed to risks associated with higher temperatures and rainfall variability as well as disruptive floods, cyclones and droughts. [1] Given the country's high level of biodiversity—80 percent of flora and fauna are endemic—the loss of one hectare of forest in Madagascar has a greater negative impact on global biodiversity than one lost elsewhere. [2] Additionally, deforestation through logging and poor agricultural practices is putting tremendous stress on landscapes.
The public-private partnership between USAID, McCormick and NCBA CLUSA aims to reverse this destructive trend. By increasing the production of high-quality, certified vanilla; improving the resilience of farmers and their families; and strengthening cooperative businesses, SVPN will reduce threats to biodiversity, improve natural resource management, reduce GHG emissions, and improve the wellbeing of farmers and their families.
The SVPN activity will also collaborate with and learn from the USAID Mikajy activity, which, as part of USAID's CCP, has similar goals to conserve biodiversity in the Analanjirofo region. NCBA CLUSA leads Mikajy's work supporting community-based, conservation-friendly enterprises and diversifying livelihoods alongside several vanilla cooperatives that McCormick is also helping to strengthen.
NCBA CLUSA and McCormick expanded their decades-long partnership to Madagascar in 2016 to promote a sustainable vanilla supply chain and improve farmers' livelihoods through the previous USAID-funded Farmer-to-Farmer and East Africa Trade and Investment Hub projects and in collaboration with a local export partner. To date, the work has largely focused on strengthening the organizational capacity of cooperative businesses and helping farmers achieve sustainable certification. NCBA CLUSA and McCormick are building on this foundation through the Mikajy Activity and now the new SVPN Activity.
---
[1] USAID Madagascar Climate Change Risk Profile. June 2016.
[2] USAID Madagascar Environmental Threats and Opportunities Assessment Update 2014.