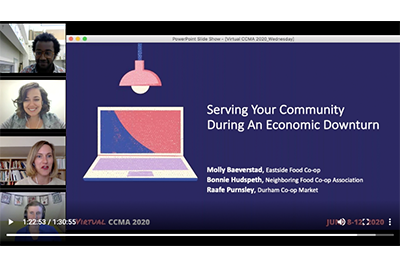 As cooperators, we deeply value human connection. This connection builds the trust necessary for our business model to succeed and thrive. At the same time, cooperative leaders also understand the need to adapt and innovate in response to changing conditions. Cooperatives have outlasted World Wars, political upheaval, natural catastrophes, and—yes—even pandemics. This willingness to live the cooperative principles, no matter the context, is one of the greatest strengths we have as a cooperative community.
Today we find ourselves amid one of those seismic shifts. While the public health and economic toll of COVID-19 continues to grow—particularly and disproportionately among Black and Hispanic communities—we also see that the way people are working, convening and learning is changing. And while we have confidence that we will one day find a cure or a widespread treatment for the coronavirus, it is unlikely that the way we interact within our personal and professional circles will return to "pre-COVID" normal.
For co-ops, this means that annual meetings and key learning events are now being adapted for the present situation in ways that may endure, even long after the COVID-19 experience. That begs the question: How do we best express our cooperative identity in a more virtual context? How can we ensure that members have meaningful engagement with their co-op? How can co-op leaders continue to come together to learn and inspire each other?
Consider a cooperative's annual meeting. First, a governance note: In most jurisdictions, law requires the co-op to hold an annual meeting, as do the co-ops' articles or bylaws. Sometimes, those laws or organizational documents require an in-person meeting. The co-op should double check these documents and navigate how best to address these potential requirements.
Emblematic of the second cooperative principle—democratic member control—annual meetings rely on participation. Given how crucial this engagement is to the co-op, the leaders should be very deliberate in providing an opportunity for members to have genuine participation in a virtual meeting. Strategies could include sending out the agenda, annual report or other information ahead of the meeting so members have an opportunity to review beforehand; and building in real-time polls during the meeting so all members (not just the ones willing to unmute themselves or type in a chat box) have a chance to engage and steer the conversation. Prizes contingent on virtual attendance, too, can help incentivize broader participation. Depending on the quality of broadband in the community, the co-op could also consider producing and showing a short video that tells the story of the co-op in an especially compelling way, preferably by featuring its members.
While virtual meetings certainly pose challenges, they also afford real opportunities to broaden access and participation. For members who might otherwise be unable or willing to travel to a physical meeting, virtual events eliminate the need to incur travel-related expenses that can be cost- or time-prohibitive. For families juggling work and family commitments—especially as childcare options dwindle during the pandemic—virtual meetings require less of a time commitment and offer more flexibility. Many are recorded and can be watched at a more convenient time. Virtual meetings also bring more diversity, equity and inclusion to participation. The typically lower prices of online events make them more accessible for students, lower-income or otherwise marginalized communities.
The recent Consumer Cooperative Management Association (CCMA) Conference, hosted by the University of Wisconsin-Madison's Center for Cooperatives on a platform supplied and staffed by NCBA CLUSA, is a great example. At a price of $25 per ticket, with further reductions available to groups, more than 830 people registered for the conference—twice the event's typical attendance. Smaller breakout discussions following sessions gave folks an opportunity to have deeper, more meaningful conversations. The Columinate Virtual Hospitality Suite offered attendees the opportunity to kick back and connect over a beverage; and an interactive, online scavenger hunt featured prizes including a free registration to attend next year's CCMA Conference.
NCBA CLUSA's own Annual Membership Meeting—typically a hybrid event—went 100 percent virtual last month. Attendance and participation was greater than in many years; we took the opportunity to highlight the work of our members and our staff in adapting to COVID-19; and we used real-time audience engagement (both polling and moderated questions) to seek input from our members.
Participation remains one of the greatest advantages of the cooperative model. That participation and collaboration betters us as organizations, businesses and people. We have an unprecedented opportunity in 2020 to build our "virtual" strength by participating in many cooperative convenings. In October, the 2020 Co-op IMPACT Conference will also be a fully virtual event, giving us more opportunities to make the only national, cross-sector conference for cooperatives even more accessible and inclusive. This is critical—especially during a year when IMPACT will focus on how co-ops create diverse, equitable and inclusive businesses and boards; and better meet the needs of communities that have historically been excluded from participation.
What has your co-op done to better engage members as we have moved to this more virtual mode? What has worked, and what hasn't? We'd love to hear from you. Find us on Facebook and Twitter or send an email to info@ncba.coop.
—Doug O'Brien is president and CEO of NCBA CLUSA, where he works with the cooperative community to deepen its impact on the economy.