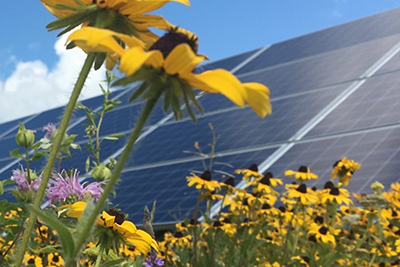 As the White House and Congress consider infrastructure policy, they should look to cooperatives as one of the key strategies to increase economic opportunity, resilience in the face of climate change, and racial equity. Cooperatives feature a unique business model that has gone to scale and helped transform sectors and communities across the U.S. Fully one out of three people in the U.S. are members of at least one cooperative, including more than 100 million credit unions members, nearly 20 million households and businesses powered by rural electric cooperatives, and the majority of the nation's 1.9 million farmers.
As people look to address today's generational challenges of inequality, racial inequity and climate change, it is time to once again focus on how cooperatives are a preferred strategy. This is because cooperatives are owned and controlled by, and benefit the people who use these businesses. In other words, community members who are rooted in their local economy are in the driver's seat—not outside investors and anonymous corporate executives. Because of this structure, cooperatives are more likely to deliver outcomes that reflect the values and needs of their communities—whether they suffer from historical discrimination, face heightened risk from climate change, or confront generations of disinvestment.
Because of their structure, cooperatives are more likely to deliver outcomes that reflect the values and needs of their communities—whether they suffer from historical discrimination, face heightened risk from climate change, or confront generations of disinvestment.
Let's consider some examples of how cooperatives have shaped infrastructure policy in the past and how that legacy can inform their role today.
Energy efficiency
Rural electric cooperatives serve more than 42 million people across more than 2,500 counties, including the vast majority of persistent poverty counties where more than 60 percent of residents are racial or ethnic minorities. Rural households tend to have a higher energy burden and pay significantly more of their discretionary income in energy costs. So one of the best ways to increase the household income of poor households in rural places is to decrease the amount of energy they need to purchase. The real opportunity is to do this while increasing the quality of life for these rural families. That is where cooperatives and the Rural Energy Savings Program (RESP) come in. Cooperatives can access resources from the U.S. Department of Agriculture to create an on-bill financing program for their members (rural households and businesses). The funds are then used to implement energy efficiency measures to decrease energy use and costs for rural families. Nearly 100 cooperatives participate in RESP, first authorized in 2014. While rural electric cooperatives have been the main participants, financial and housing cooperatives are also eligible.
As Congress looks for ways to help vulnerable communities to participate in solutions to climate change—as well as increase the incomes of low-income households—it could invest significantly greater resources into RESP and look for ways to increase the affordability of and streamline applications for projects serving the poorest places.
Food systems
For another way to use infrastructure policy to address climate change while empowering people who are in the best position to make significant impacts, consider the food system. As with other sectors, agriculture has the potential to contribute to solutions to climate change. A report from the Food and Agriculture Climate Alliance details a myriad of proposals ranging from soil health and livestock practices to energy consumption. Policymakers should consider how these and other proposals can be implemented in a way that provides farmers and people in the food system an opportunity to have a say in and benefit from the new policies.
Policymakers should also consider how to involve existing and new farmer cooperatives, consumer cooperatives and purchasing cooperatives. For example, climate policy will entail the collection of vast amounts of data—data on things like soil quality, production practices and yields The people at the heart of our food system—farmers, food processors, distributors and food retailers—are in the best position to provide that data. The data will hold value in terms of environmental services, as well as production efficiency, profitability and market information. To ensure that the most value is captured and that it remains owned by and benefits people in local communities, cooperatives should be at the center of this work.
Climate policy
In another example, climate policy will vastly increase demand for some current services, while creating some completely new lines of work where cooperatives could play a fundamental role. Consider heating, ventilation and air conditioning (HVAC) contractors. Small businesses that sell and install HVAC systems often join together in purchasing cooperatives to gain scale, increase their sophistication, and benefit from the tax mechanisms provided to many cooperatives. These cooperatives—all of which are owned and controlled by, and benefit local small businesses—are in a perfect position to accelerate the installation of new HVAC systems that are more climate-friendly. For instance, Bluehawk Distribution Co-op, a member of the IMARK Group, includes more than 200 small businesses and 12,000 workers. In another example, Amicus Solar Cooperative is a member-owned purchasing cooperative of 61 experienced solar energy companies—just the kind of businesses that will need to grow to ensure the private sector responds to the call for climate action. As policymakers look for ways to scale upgrades or equipment replacement to meet climate goals, they should consider how cooperatives both have scale and are designed to keep dollars in Main Street—not Wall Street.
Climate policy could open avenues for consumer cooperatives as well. Recently, a coalition of environmental groups and electric cooperatives came together to point out both the environmental and economic benefits of electrification. The groups observed that a more comprehensive look at strategic uses of electricity can many times reduce greenhouse gas emissions, improve quality of life and decrease costs. For example, consider the shift from gasoline-powered to electric cars. As major car manufacturers have recently announced their intent to shift to electric cars, industry and policy leaders are faced with real-world questions of how to scale up the generation and distribution of electricity for this new use that has clear environmental benefits. This includes questions around how consumers will access charging stations—especially consumers who do not have their own single-family home with a charging station or who are traveling away from their home. In rural places, this means that the already established electric cooperative system with its 2.7 million miles of electric distributions lines could install charging stations throughout the country. In cities where many people live in apartments, condos or housing cooperatives, consumers could come together to create charging hubs that are cooperatively owned.
Broadband
For people to participate in today's economy, broadband is also essential. A New Deal Era scale of investment is overdue, and Congress should invest resources needed to close the rural broadband gaps in the U.S. A broad array of partners have come together to form the American Connection Project with the goal of digital inclusion for rural communities. Land O' Lakes leveraged its cooperative network and more than 100 partners to put together this group that has already provided more than 2,800 free, public Wi-Fi locations and is advocating for meaningful broadband reform and broadband investment. Cooperatives are already a familiar business model for broadband distribution with many cooperatively-owned broadband companies, and more than 100 rural electric cooperatives that bring high-speed internet access to rural communities. To finally close this digital divide, cooperatives are a key strategy as for-profit broadband companies shy away from rural and socially disadvantaged communities.
Housing
In another example, infrastructure policy could look to limited equity housing cooperatives (LECs) as a proven strategy for affordable housing that empowers its residents. As described by Local Housing Solutions, "A limited equity housing cooperative is a homeownership model in which residents purchase a share in a development (rather than an individual unit) and commit to resell their share at a price determined by formula—an arrangement that maintains affordability at purchase and over the long term." Affordability is assured through initial public financing, the cooperative's bylaws, and potentially through local programs and policies. With increasing interest in this form of housing, federal infrastructure legislation could play a large role in increased resources for financing and technical assistance.
Congress and the Administration should seek to make more loan guarantees for the underlying mortgages, individual share loans for resident-owners to purchase an ownership stake in the cooperative and financing to support the creation and rehabilitation of limited equity cooperative housing stock. Loans should be supplemented with grants or refundable tax credits to low-income individuals to purchase a housing share and capture some of the benefits of homeownership. Moreover, to increase the number of cooperative housing units, Congress should incentivize the sale to cooperative ownership on expiring Low Income Housing Tax Credit and other affordable housing programs to provide long-term certainty to residents.
Caregiving
As Congress takes a comprehensive look at shortfalls in our nation's infrastructure, legislators should not overlook our caregiving infrastructure. The consequences of the pandemic falling disproportionately on women—especially women of color—is well-documented. Millions of women have lost their jobs in the last year, and hundreds of thousands of women have stopped looking for employment in the formal economy. As Congress considers how to invest in the care economy and bring women back into the workforce, cooperatives are once again a shovel-ready solution—not just to create employment opportunities, but to create a whole new cadre of business that are highly resilient to economic shock and governed by their member-owners. Caregiving of children and of seniors is very different. Yet using the cooperative model for both creates greater opportunity for member-owners and more consistent, high-quality care for consumers.
As it debates infrastructure legislation, Congress has an opportunity to finally get infrastructure policy right by ensuring that their investments reduce rather than exacerbate inequity in the U.S.—all while helping the country respond to climate change.
As it debates infrastructure legislation, Congress has an opportunity to finally get infrastructure policy right by ensuring that their investments reduce rather than exacerbate inequity in the U.S.—all while helping the country respond to climate change. The White House and many Congressional leaders have already expressed their goals to increase equity and fight climate change; now they need to look at business models that empower people and communities to take ownership of that work. Cooperatives are a proven strategy for doing just that.
—Doug O'Brien is president and CEO of NCBA CLUSA, where he works with the cooperative community to deepen its impact on the economy.