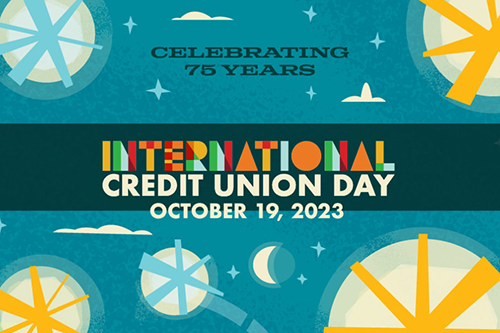 Credit unions across the globe are being called to join in the celebration of the 75th International Credit Union (ICU) Day. The broadly observed event, set for October 19, 2023, underscores the spirit and accomplishments of the credit union movement.
ICU Day offers a platform to not only reflect on the credit union movement's rich history but also to highlight its current achievements and future aspirations. Since its inception in 1948, the annual event has taken place on the third Thursday of October, serving as a beacon for credit union innovation, member experiences and social impact.
"Celebrating the 75th anniversary of ICU Day underlines the resilience and dedication of the credit union movement," said Megan Crowson, Manager of Consumer Engagement Solutions, Credit Union National Association. "It is a moment to reflect on our collective achievements and engage with our members around the world in a day of celebration. We are proud to commemorate this historic milestone in cooperation with World Council of Credit Unions and America's Credit Unions."
This year, Credit Union National Association (CUNA), World Council of Credit Unions (WOCCU), America's Credit Unions and sponsor Elan Credit Card are collaborating to elevate the celebrations, providing a variety of resources for credit unions to engage their communities, members and staffs.
CUNA has created a suite of ICU Day products, including free-resource downloads, design-bundle purchases, and a store of branded memorabilia to support credit unions in their celebration planning.
On Jan. 17, 1927, the Credit Union League of Massachusetts observed the inaugural official holiday for credit union members and workers. The date was selected in honor of the birthday of "Apostle of Thrift," Benjamin Franklin. Early credit union founders revered him as an embodiment of the ethos and objectives of credit unions.
However, the North American credit union movement saw a period of rapid expansion that ironically led to the holiday being overlooked. Due to the fast-paced growth, individuals were either too engaged with their duties to commemorate the day or were newcomers to the movement, and hence, did not grasp the day's significance. Following a brief period of observance, Credit Union Day gradually faded away.
In 1948, CUNA decided to resurrect the national Credit Union Day. In collaboration with CUNA Mutual Insurance Society, the third Thursday of October was designated as the national day of recognition, and it has stuck ever since, growing to an international event.
As a cornerstone of the credit union mission, financial wellness and member empowerment have always been integral to ICU Day's celebration. This year, the event will further emphasize these themes, focusing on fostering financial well-being for all members.
As the 75th ICU Day approaches, credit unions are encouraged to leverage CUNA's resources and gear up for a day of celebration, reflection and future-focused planning. With a history of impacting local communities and promoting financial wellness, ICU Day is a reminder of the essential role credit unions play in society.
For more information on ICU Day and how your credit union can participate, visit CUNA's ICU Day resources.