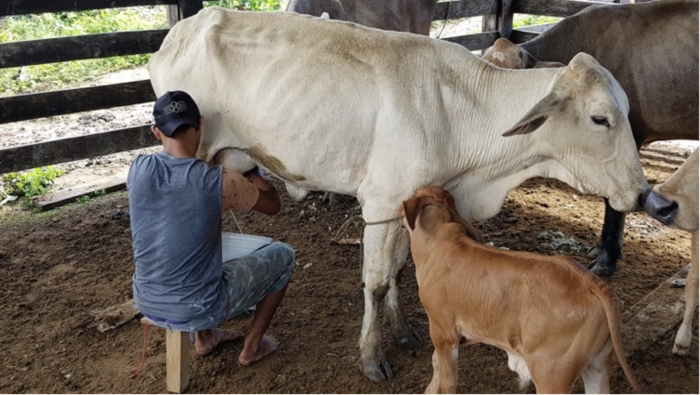 What are Collective Efficiency Schools?
Through the USDA Food for Progress  Safe Agriculture/Food Export (SAFE) Project, known locally as ProGana, NCBA CLUSA has adapted the Food and Agriculture Organization's practical, hands-on farmer field schools training methodology for beef and dairy cattle ranchers.
These schools follow a horizontal training methodology to improve productivity and increase meat and milk quality. This methodology is applied on farms, federations, and at producer organizations located in the provinces associated with the project.
At the end of 2019, ProGana's leadership saw the need to use the same horizontal training principles, adapted to the needs of meat processing plant personnel. Some management topics were adapted, such as teamwork and conflict resolution to complement the training that was being carried out on more technical topics such as proper personnel hygiene, Hazards Analysis and Critical Control Points (HACCP), Sanitary Performance Standards (SPS), and others.
This is how the innovative Collective Efficiency Schools (CES) were born and operating in the three main meat processing plants in the country since 2019. They are helping the meat processing plant personnel comply with the requirements and standards USDA Food Safety Inspection Service (FSIS) equivalence has in place to export industrial meat products to Puerto Rico.
José Jiménez, a member of the Quality Control team of the Agrocarne / Central Romana meat processing plant discusses his experience with a CES, where he took the course "Lead Auditors of Food Safety Management Systems". "After having taken and passed this important course, taught within the framework of a ProGana CES, I felt qualified to meet the requirements demanded by the FSSC 22000 certification," he said.
Food Safety Systems Certification, FSSC 22000, is an internationally accepted certification program based on a combination of the ISO 22000 sector-specific Prerequisite Programs (PRPs), and additional FSSC requirements.
The FSSC 22000 standard have been developed for the certification of management systems in order to guarantee the safety of products during the primary production of animal products; the manufacture of perishable products of animal and/or vegetable origin; long-life products, and other food ingredients such as additives, vitamins, biofuels, the production of food and feed for animals, and the manufacture of food packaging.
Jiménez shared his experience with the Progana team, demonstrating the value of these trainings for Dominican ranchers.
ProGana: How do you rate your participation at the Collective Efficiency Schools?
JJ: Personally, I value the Collective Efficiency Schools, as a different way of developing classes, since with this methodology different points of view can be discussed with different professionals, that is, it is an excellent way of learning.
ProGana: What did the classes at the Collective Efficiency Schools consist of?
JJ: The CES implement a horizontal methodology for teaching that consists of the permanent motivation of students to actively participate in the learning process. This methodology also integrates classrooms as part of teaching.
ProGana: What was the greatest learning, or advantage that you could get from this Schools?
JJ: My greatest learning was being able to guide other people towards a certain objective to meet their goals.
ProGana: Regarding the course for lead auditors, what did you learn in it? How has this knowledge helped you in your work?
JJ: As an auditor, I have been able to improve and develop the procedures and projects that we have planned in our institution. We have even achieved certifications after having passed international audits with excellent scores.
ProGana: How did that training at the Collective Efficiency Schools help you, successfully pass, the audit to achieve FS22000 certification?
JJ: Thanks to the School, we were able to train and guide our staff to opt for the FS22000 certification. These learnings provided many tools that were very useful for us to achieve this certification.
Please, briefly explain what skills that audit assesses to achieve certification.
Evaluates the skills to correctly fill out and verify forms of different steps in the processing plant. It also evaluates data analysis, personal and plant hygiene; the creation of an adequate safety plan, and an adequate Hazard Analysis and Critical Control Points (HACCP) plan.
Hazard Analysis and Critical Control Points, is a food safety system put in place to identify all potential hazards in ingredients, and the different food production processes. Other skills that this audit evaluated were the methodology of microbiological analysis, the traceability of the products, application of sanitary norms, and the commercialization of the products.
---
 About USDA/ProGana
The Safe Agriculture/Food Export (SAFE) Project, known locally as Strengthening the Dominican Livestock Value Chain (ProGana), is a seven-year project financed by the United States Department of Agriculture's (USDA)'s Food for Progress Program (FFPr). It is being implemented by the National Cooperative Business Association League of Cooperatives of the United States of America (NCBA CLUSA), and a consortium of six (6) local and international partners.
This project seeks to improve agricultural productivity in the beef and dairy value chain as well as expand trade of beef and dairy products through technical and financial assistance, capacity strengthening, and the promotion of improved technologies and practices.