Early-bird registration is now open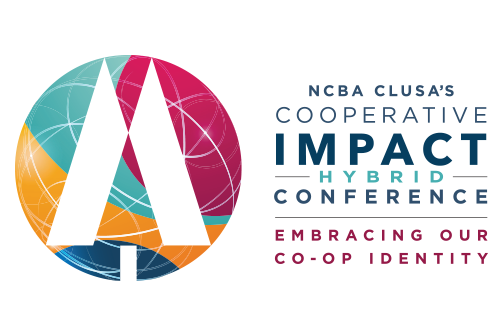 for NCBA CLUSA's 2021 Cooperative IMPACT Conference, scheduled for October 4-8. As a hybrid event this year, we are thrilled to offer two days of in-person programming at the National Press Club while still preserving and accessibility and convenience of a virtual event.
Register now and lock in the early-bird rate of $50 for NCBA CLUSA members and $75 for non-members—an exclusive savings only available until August 15. After August 15, member and non-member rates will increase to $75 and $100, respectively.
Our theme for 2021 is "Embracing Our Cooperative Identity," and IMPACT sessions will challenge cooperators everywhere to deepen their understanding of the values and principles that truly make cooperative enterprise unique. Embracing the cooperative identity goes beyond understanding it in the academic sense; it also provides an opportunity to act on that deeper understanding. Whether working to dismantle racism, build resilience in the face of climate change or preserve small businesses during a pandemic, last year reminded us that cooperatives have the greatest impact when cooperators live up to their values and principles.
NCBA CLUSA's Cooperative IMPACT Conference is the only national, cross-sector event elevating the national conversation around a trusted, proven way to do business and build communities. The annual conference provides an unparalleled platform to reenergize the cooperative movement and galvanize its champions around building a more inclusive economy. Register today and join hundreds of co-op developers, financers, community and city leaders, innovators, economists and policymakers in October!
If you plan to attend one or both days of our in-person programming at the National Press Club on October 7 and 8, please add "Thursday In-Person" and/or "Friday In-Person" under "Additional Items" during registration. On this page, you can also add our dedicated international programming and purchasing co-op day, as well as purchase tickets to attend the 2021 Cooperative Hall of Fame Banquet & Induction Ceremony on October 7 and this year's Saint Mary's University course, planned for October 20-21.