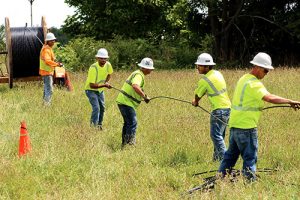 Like many of my colleagues in leadership across the cooperative network, I come from modest roots.
That upbringing has helped shape me as a person and as a leader. And it's made me especially aware of the responsibility we have to serve our members. All of our members.
America's electric cooperatives provide service to 92% of U.S. counties at the poverty level. Poverty can be persistent for varied reasons, and co-op members who live in these areas deserve our best efforts to lift them to a better standard of living. They are low-income families, disabled veterans, elderly adults on fixed incomes, and young people living in substandard housing or inefficient manufactured homes.
No one likes to pay bills. But in many cases, there are folks who simply have to choose between putting food on the table or paying their electric bill.
Electric cooperatives were created because there was a large group being left out of the electrification movement. You know that story. It persists in different forms today.
As technology continues to advance, as the economy grows, and as our energy services expand, we face new challenges. We are working to keep electricity affordable while providing new services that enhance quality of life and tear down barriers to progress in our communities. We do all of this, as we did more than 80 years ago, for our members.
I am proud of the progress our network is making in advancing energy access for all. We are introducing affordable efficiency programs, providing new energy options on a community scale, and bringing high-speed internet to rural areas. We're also making a difference in so many other ways that extend beyond energy yet are critical to maintaining and growing our communities.
Each of our members matters, not just the ones who pay their bills on time. NRECA's Advancing Energy Access for All initiative, which highlights cooperative involvement in facilitating healthy communities, is surveying innovative partnerships and uncovering new opportunities for assistance programs to be successful: programs like Consolidated Cooperative's "People Fund," offering financial support to members who have fallen through the cracks; North Dakota's Rural Development Program, adopting and financing community facilities in critical need; and Cherryland Electric's low-income solar program, making renewable energy affordable for all.
These and other initiatives ensure everymember is included in our continuing cooperative movement, and they remind us why we are committed to the cooperative model. Rural and disadvantaged communities should not be left behind again.
As cooperatives transform to be leaders for the next generation, we exist to serve the underserved. It's the very reason the electric cooperative movement started more than 80 years ago.
Curtis Wynn is the President & CEO of the Roanoke Rural Electric Cooperative and Board President of the National Rural Electric Cooperative Association.