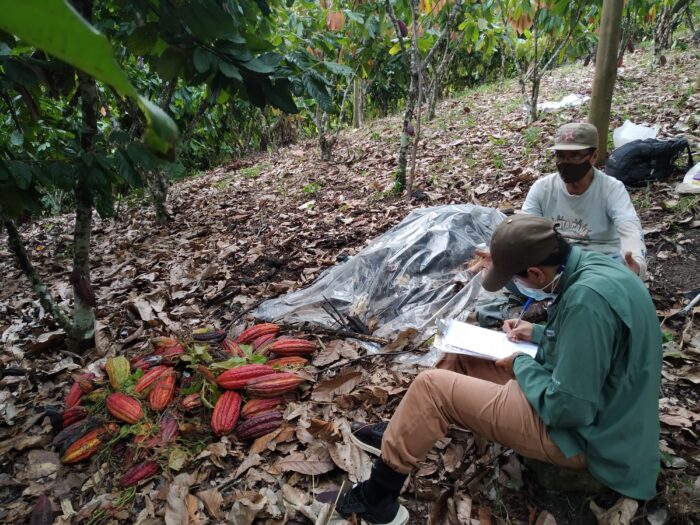 Cooperativa Agraria Allima Cacao, or just Allima Cacao, was founded in 2002 to support small-scale cocoa producers. Located in San Martin, Peru, Allima Cacao was created with the support of USAID and the government of Peru to eradicate the illicit cultivation of cocao. By turning cacao into a more profitable and enticing industry for the area, Allima Cacao has grown substantially over the past few years.
Currently, Allima Cacao has 304 members, with 90% of them representing native ethnic groups. Covering 14 communities, Allima Cacao has helped farmers increase yields and profitability in cacao production. Since its start, Allima Cacao has been dedicated to training farmers through demonstration farms to improve their success in the fields.
To further their mission and goals to create a better future for their members and community, Allima Cacao seeks to improve cocoa yields to create better cocoa by-products. Their field technicians and extension agents have taught members about beneficial practices like fertilization, agroforestry, and pest management, but many co-op members misunderstood how to apply these approaches. Allima Cacao had a problem with its extension service system. Their staff wanted to learn how to improve their system and train extension agents and community leaders to make the knowledge learned impactful. Beyond the field, Allima Cacao needed help educating farmers about market opportunities and management strategies to help them make more informed choices.
To support the cooperative, NCBA CLUSA's USAID-funded Farmer-to-Farmer program connected Allima Cacao with volunteers Jim Conley and Johans Jacobo Jara, two people with careers steeped in agriculture and education. Jim has experience consulting on-farm demonstrations, creating production manuals, participating in technology transfer, and building extension agents' capacities. Before that, Jim worked as an instructor and as an extension agent himself. Johans has managed, controlled, and provided logistical support for agricultural research facilities. He has experience training and creating strategic plans and documents for education. Together, Jim and Johans were able to assess the methods extension workers used, provide recommendations for training methods, provide techniques to increase content adoption, and create workshops to help with farmer and extension agent communication.
One field technician, Francisco, was able to work closely with the volunteers. Francisco found the Farmer-to-Farmer program to be helpful. Saying,
"After the practical sessions, I learned new communication strategies to communicate effectively with the farmers, to stay motivated, and transfer the knowledge better. I will apply this on my daily working duties as I am in contact with the farmers every day."
The knowledge Jim and Johans passed on will be essential for helping Allima Cacao and its members improve their yields and economic security in the future.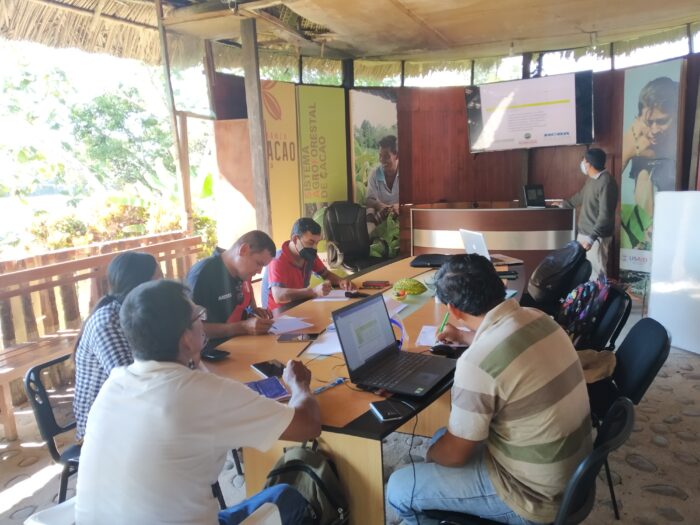 With cacao production being the primary source of income for its members, Allima Cacao's work is vital to maintaining stability for families. To impact their communities directly, Allima Cacao has a social fund dedicated to community improvement projects. Most recently, they provided and implement a garbage can system to better the community port's waste management system. As we sit in yet another challenging year, the Farmer-to-Farmer program is helping co-ops and agricultural associations recover, overcome, and grow from this year's unique challenges. During the pandemic, Allima Cacao successfully bought 100% of its members' cacao beans, securing their incomes in a time of uncertainty for many. Thanks to the assistance of these volunteers, Allima Cacao will continue their season with new tools and strategies to grow their yields and positively impact their communities.