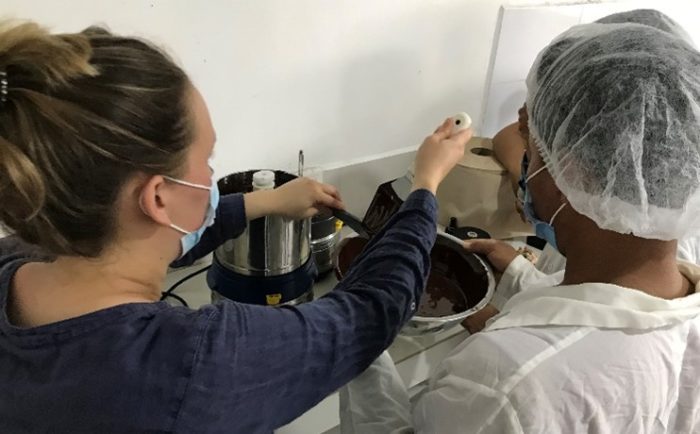 Competition is fierce in Ecuador's cacao and chocolate markets. Organizations must learn to diversify themselves with a variety of products to maintain their competitive edge. Asociación Tsatsayaku (also known as Asociación De Productores De Cacoa Nacional Fino De Aroma De Carlos Julio Arosemena Tola) is a producer association in Napo, Ecuador. Tsatsayaku means "sandy river" in Kichwa, the local native language. The association produces fine aromatic cacao, wayusa and chocolates.
Tsatsayaku is dedicated to the production of various organic products. They stand out for being an entrepreneurial association, integrating high quality products and services, but have faced financial difficulties during the COVID-19 pandemic. Due to the country-wide lockdown last year, Tsatsayaku members could not get to the local communities to collect cacao and some were not able to harvest their crops. This unfortunate situation meant that Tsatsayaku could not sell to their local and international clients. In fact, they have not been able to recover their national clients, and sales to their international clients have helped the association stay afloat. The association has noticed that national demand of cacao and chocolate has decreased but they are positive that they will gain back sales and clients through the local store they have at their facilities and by enhancing the products they have to offer.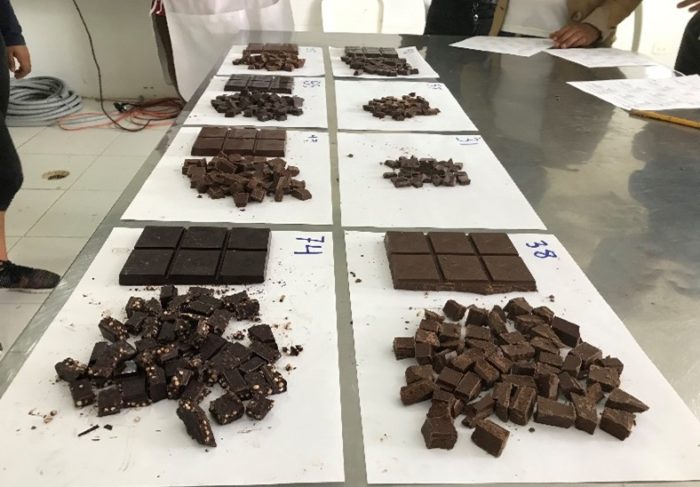 In order to grow their participation in the market during this slow down, the association sought support from NCBA CLUSA's USAID-funded Farmer-to-Farmer program to create chocolate formulations with different cacao percentages and more versatile products that are defined by different tastes and textures. This includes chocolate bars at 50% cacao combined with ginger, pineapple, vanilla, and other ingredients that can be sourced locally. With the help of Farmer-to-Farmer, volunteer Sonia Gregor set out on an assignment to train Tsatsayaku's members in chocolate creation and formulation in January 2021. Sonia has broad experience working in chocolate and cacao tasting. She has worked in Vietnam, Colombia, Thailand, and Ecuador at different chocolate companies and cacao producing farms.
Sonia was able to help clarify the chocolate formulation process for Tsatsayaku members and the association will seek funds in the future to acquire more equipment to enhance the production process. Sonia also supported the association in the creation of new chocolates. Members are already producing large volumes of the new chocolates learned in the assignment, including bars with 50% cacao. Members were able to sell some of the new chocolates during Valentine's Day with a great deal of success.
After Sonia's assignment, Tsatsayaku created a Cacao and Artisan Chocolate Tour. At the inauguration event in February, they had a tasting of the new chocolates they learned to create during the Farmer-to-Farmer assignment. Some of the new chocolates include formulations with ginger and peanut chunks. These new products will be sold soon at their local store.
"Sonia knows a lot about chocolate processing, and we are very satisfied with the new chocolates we learned to create. We were interested to learn about Sonia's experiences in other countries like Vietnam, which helped us to generate trust with her and we admired Sonia for her knowledge," said Izamar Valerezo, Administrator and Legal Representative for the association.
Farmer-to-Farmer hosts, like Asociación Tsatsayaku, look forward to receiving volunteers to help them achieve their social and economic goals. While the COVID-19 pandemic has impacted farming in Ecuador, cooperatives and producer groups are hopeful that they can resume activities soon, in collaboration with expert volunteers, to improve their production, increase their sales, and strengthen their organizations. If you are interested in volunteering for Farmer-to-Farmer, you can learn more about our open assignments in Ecuador and Peru here.