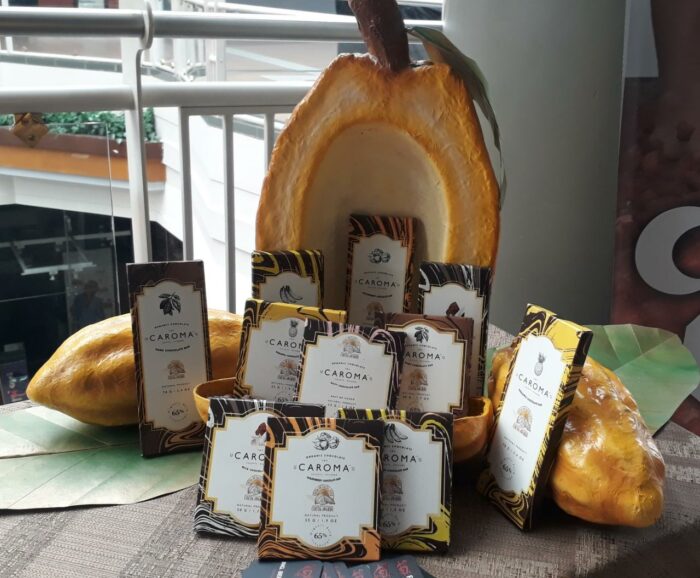 On Valentine's Day, millions of people around the world buy chocolate for their loved ones. But as we share this holiday treat with our friends, partners and families, it's important to understand where chocolate comes from.
Ecuador has a unique native variety of cacao beans known as Arriba or Nacional that contains particular aromas and flavors, making it highly valuable among chocolate manufacturers. No matter the variety, cacao farming is accomplished through the hard work and dedication of producers, most of them smallholder farmers.
One of these farmers is Ricardo Zambrano, a graduate of Zamorano University in Honduras and a consultant in cacao, plantain and banana production with more than 25 years of experience. This month, Ricardo joined NCBA CLUSA's Farmer-to-Farmer team in Ecuador as a virtual speaker for a "Cacao Production Best Practices" session on Instagram Live. During this session, Ricardo and Farmer-to-Farmer Field Coordinators Monica Aguilar and Kimberly Loor connected with 87 viewers across eight cooperatives on how to take care of their cacao farms during the rainy season. During the pandemic, social media has become a critical way for farmers to connect and share knowledge.
This session was particularly important because during the rainy season, cacao farms are vulnerable to diseases caused by fungus that can proliferate and cause major crop losses. During the session, farmers learned to implement agricultural management practices, such as the removal of diseased pods, to prevent spores from spreading and producing new infections.
Farmer-to-Farmer works directly with 26 cacao cooperatives in Peru, Honduras and Ecuador through volunteer-led capacity building assignments. One of these cooperatives is APROCA, an Association of Organic Cocoa Producers of the Canton of Atacame, which works with 150 certified organic cacao producers in Ecuador.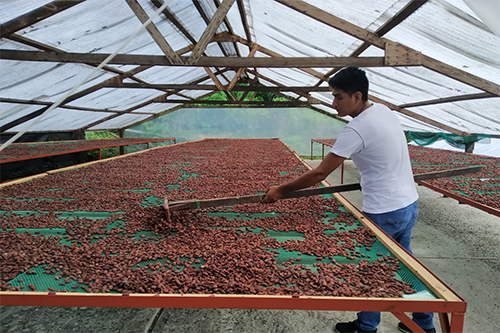 During the pandemic, cooperatives like APROCA—with support from Farmer-to-Farmer—have been transitioning to e-commerce and seeking online training and support for market expansion. Last year, Farmer-to-Farmer supported these cooperatives with online paired assignments focused on branding, marketing and organizational governance.
In Ecuador, Farmer-to-Farmer recruited local and U.S. volunteers to support seven associations in chocolate formulation, integrated pest management, digital marketing and e-commerce. Supporting these industries can lead to increased local food security and can contribute substantially to farmer livelihoods. Because most of the farmers involved are smallholders, improving productivity and market visibility dramatically improves profits and directly impacts quality of life.
If you want to help spread the love—through knowledge, not just chocolate!—learn more about how you can contribute to capacity building in Latin America through our Farmer-to-Farmer volunteer opportunities!