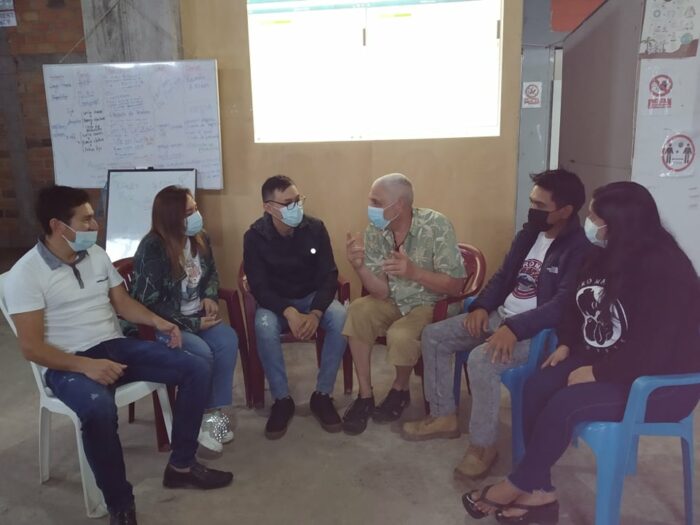 Apromayo is a cooperative serving organic coffee farmers in the Soritor region of Peru. The cooperative works to provide its members with technical assistance and a sustainable market for their products. Apromayo's members own between 2.0 – 2.5 ha of coffee on average and coffee is the only source of income for many of its members. While coffee farming subsidizes families during the year, it doesn't normally allow them to build savings. As Apromayo has grown substantially in the last few years, their members lacked financial knowledge and budget skills, and their accounting system was basic and incomplete.
To support Apromayo, NCBA CLUSA's USAID-funded Farmer-to-Farmer program sent U.S. volunteer Daniel Lavin to the cooperative to help improve the financial knowledge of the organization, specifically targeting members that are responsible for keeping the records. Daniel is the owner of A Necessary Evil Ltd, a bookkeeping company servicing about 85 small businesses. He has done bookkeeping for businesses and organizations in the U.S., and sub-Saharan West Africa for over 30 years.
Daniel worked with Apromayo members to establish a Chart of Accounts that is useful, understandable, and applicable to the goals of the organization, create an accounting system and budgeting tool for 2022, and have trained members explain the new accounting method to the rest of the organization. Daniel conducted multiple trainings and exercises with Apromayo members during the course of his assignment to support their goals and objectives. He was proud to say, "the team exceeded all expectations, learning concepts in days that normally take months, doing almost one year of bookkeeping in days, and actively becoming the solution to their own challenges. I observed the team solving complex issues, and doing so with confidence and accuracy."
To be successful, Apromayo will have to keep all accounts accurately up to date, resulting in accurate financial reports, useful budget to actual comparisons, and tools that will help them to make accurate decisions. This will be demonstrated monthly, and Daniel has offered to support remotely to review the results.
Apromayo members learned a lot of skills during this assignment that will hopefully help them expand as a business. One of the members of the cooperative stated, "I learned how to use an accounting program with Daniel and he shared a lot of knowledge with us. This was a new topic for me and I learned new accounting terms, balance sheet, profit and loss statements. It was a unique and educational experience." The members that worked with Daniel are well prepared to tackle any future accounting challenges and now have the necessary skills to focus on business development.