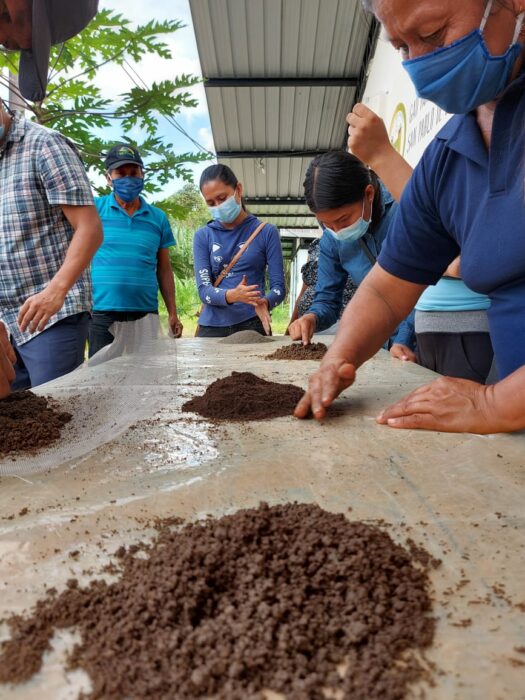 Asociación de Producción Agropecuaria Waylla Kuri de Rukullakta del Pueblo Viejo (ASOPROAKURI) was established in 2015 and has 16 members. They are a community enterprise founded by the Kichwa People of Rukullakta in the Ecuadorian Amazon. The group produces, processes and markets organic coffee as well as sacha inchi seeds. Sacha inchi is a perennial plant that has been cultivated by indigenous people for centuries known for different medicinal uses.
Waylla Kuri cultivates coffee and sacha inchi with the intent to pursue a harmonious relationship with the environment and natural resources. Their main objective is to preserve the natural resources, while working the land to improve the quality of life of members their families.
Waylla Kuri members were facing low productivity in their coffee plantations. The soil in this area is poor, low soil pH and high content of phosphorus, aluminum, and fixed iron. The Amazon region has a rich flora, but when it comes to member's coffee productivity, yields are low. Hence, Waylla Kuri sought to learn how to create organic fertilizers using local farm inputs and biols (or bioles in Spanish). Their coffee cultivars were also impacted by coffee berry borer or "broca de café" in Spanish. This plague affects coffee quality and productivity, causing damages in the cultivar and yield losses, decreasing families' incomes.
To support the organization, NCBA CLUSA's USAID-funded Farmer-to-Farmer program was recommended by the United Nations Development Program (UNDP) to recruit volunteers to support Waylla Kuri with developing a composting system, taking advantage of local resources for an increase in robusta coffee production. The United Nations Development Program (UNDP) recommended the Farmer-to-Farmer Program because Waylla Kuri needed technical trainings for its members. A local and international volunteer were connected to Waylla Kuri to help the organization create a composting system and biofertilizers.
International volunteer, James Corven, is the owner of Fenn Farmstead & Gardens and uses his skills to support international sustainable agricultural practices. Local volunteer, Leonardo León Castro, is an independent employee who worked with local Ecuadorian communities to improve management practices in cocoa crops, and he works to contribute to the rural development of the Amazon.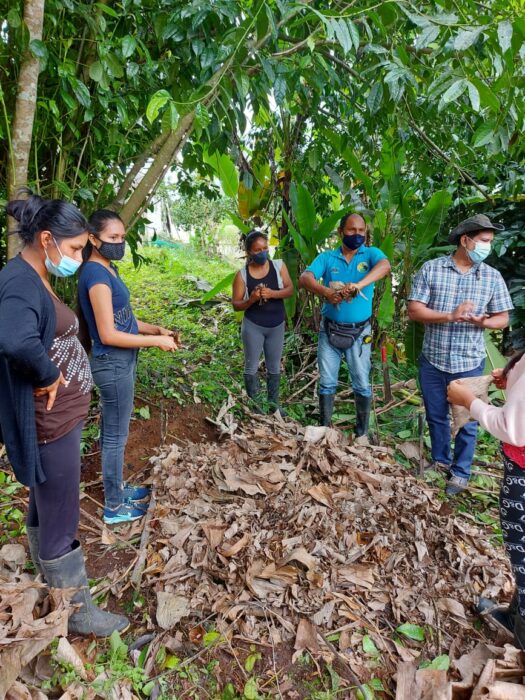 James conducted training presentations online to cover compost preparation and application, soil characteristics, and plant nutrition. These were designed to complement in-person demonstrations by Leonardo on the same topics plus presentations on biols and on soils. Waylla Kuri members walked away from trainings with knowledge on the importance of nutrients in soil, such as nitrogen, potassium and phosphorus.
The President of Waylla Kuri, Augusto Eduardo Salazar Yumbo, joined the organization in 2004 due to a lack of market and low prices for his products. Augusto was also interested in promoting and utilizing sustainable production practices. Working together as an organization has helped Waylla Kuri members join forces and have a fair trade of products. Augusto took part in all the trainings offered by James and Leornardo. He expressed,
I learned how to create compost and biol using local materials; it is really important because this will help us take advantage of the materials in our chakras. All this knowledge is truly applicable.
This assignment supported Waylla Kuri in training members to create a self-management enterprise model of ecological production in an agroforestry system (Chakra Kichwa). Waylla Kuri is well under way to becoming a sustainable enterprise in harmony with the Amazon environment.