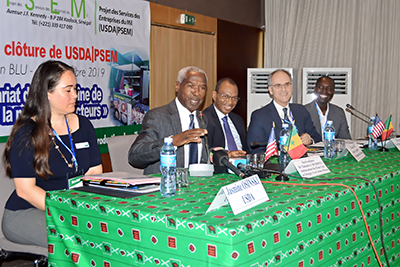 After a research-focused extension designed to capture lessons and challenges that could inform future development work, NCBA CLUSA's U.S. Department of Agriculture (USDA)-funded Millet Business Services Project officially closed on September 30, 2020.
The project, in partnership with USDA and Senegal's Ministry of Agriculture, hosted a closing workshop on December 19, 2019 to highlight its achievements in increasing the agricultural productivity of the country's millet value chain and expanding millet trade. Over five years of implementation, the project impacted close to 500,000 people and led to almost $12 million in total millet sales.
"It was exciting to see the energy and engagement of producers and processors—in particular women entrepreneurs—as well as local government officials and larger private sector actors who made the project a success," said Alex Serrano, Senior Vice President of International Development at NCBA CLUSA, who attended the closing workshop. "Through their collective effort and USDA support, the millet value chain has been transformed from one of basic subsistence to a professional, profitable commercial system that fills granaries and feeds families across Kaolack, Fatick and Kaffrine."
The Millet Business Services Project (MBSP) was a follow up to NCBA CLUSA's previous Millet Value Chain Project, which increased millet yields by 69 percent and sales revenues by 145 percent. With a budget of close to $10 million, MBSP almost doubled NCBA CLUSA's USDA funding for millet value chains in Senegal.
Over the past several months, the extension phase of the project has focused on post-harvest handling and building the capacity of producer organizations to access markets and add value to their crop. It also expanded the trade of millet by developing public-private relationships, facilitating trade and promoting food safety.
Beyond achieving the targets and objectives of the project, USDA | MBSP completed four innovations: millet hubs, millet kiosks, quality and branding standards and a new model for financing producer inputs.
The project's 18 millet "hubs," or centers where harvests are inspected, cleaned, sorted and stored, allow farmers to preserve the quality of their millet, leverage their bargaining power to stabilize prices and, ultimately, earn more income. Each 200-ton capacity storage warehouse keeps millet in the best possible condition until it is sold.
"I think the millet hubs will be a long-lasting investment based on the success of the project and the connections they've already made with farmers and other projects," said Sarah Polaski, International Program Specialist in USDA's International Food Assistance Division-Global Programs.
Jasmine Osinski, Agricultural Attaché for the U.S. Embassy in Dakar, noted that the project has become a model for sustainable development. "[The Millet Business Services Project] bolstered the reputation of the U.S. Embassy and USDA, beyond helping thousands of Senegalese people by creating sustainable jobs and increasing food security."