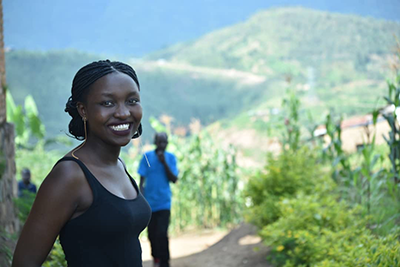 NCBA CLUSA is pleased to host Sandrine Bakuramutsa this summer as a Zero Hunger Intern through a partnership with the Congressional Hunger Center, a 501(c)(3) nonprofit that works to make issues of domestic and international hunger a priority to policymakers in the U.S. government, and to raise a new generation of leaders to fight against hunger and poverty.
Born and raised in Gakenke, Rwanda, Sandrine is a rising senior at Michigan State University where she studies Food Science and Food Industry Management. On campus, Sandrine is a member of the Spartan Global Development Fund, a student-run nonprofit organization that creates awareness about the role of microfinances and fair trade as grassroots tools to achieve sustainable solutions to global hunger and poverty. Earlier this year, she participated in a spring break anti-hunger education abroad program in Guatemala.
During her internship, Sandrine has been supporting NCBA CLUSA's Resilience Team. Read about her experiences with cooperatives below, and learn how her time with NCBA CLUSA this summer has shaped her career path.
Among the many co-ops in Rwanda, Abakundakawa—which means "people who love coffee" in Kinyarwanda—is a women's coffee farmers' cooperative located a few feet from my house. Growing up in Rwanda, I have known Abakundakawa co-op as a major source of income as well as a bonding space for women in my community long before understanding the theory of cooperatives.
The United Nations defines cooperatives as business enterprises owned and controlled by the very members that they serve. Research has recognized co-ops as a vehicle through which developing communities create income-generating activities, provide employment and develop businesses as a tool to achieve sustainable development. Rwanda, my home country, is one of those developing countries that opted for cooperatives as an integral tool to build a resilient and sustainable economy that allows citizens to have a say in their future.
In college at Michigan State University, I continue to gravitate towards spaces that give me a deeper understanding of how co-ops function and their economic and social impact in developing communities. During the summer after my sophomore year, I worked for Rwanda Trading Company (RTC), a Rwanda-based coffee processing company. One of the company's goals is to generate long-term economic stability by partnering with coffee farmer co-ops around the country. During my eight-week stay, I was fortunate to hear and read stories from co-op members who testified to how being members eases the burden of finding a market for their produce. As a cooperative, the farmers organize themselves and make solid contracts with processing companies—something they cannot easily do individually. It is also through those co-ops that the company reaches the farmers with trainings on how to better their agricultural practices and increase production.
The success stories of those Rwandans are no different from those of the Guatemalan coffee farmers I encountered in Chacaya village through participating in Grassroot Tools for Sustainable Development: Service Learning in Guatemala, a Michigan State University education abroad program earlier this year. By working together, Chacaya coffee farmers were able to acquire loans from local micro-finance, funding they used to build a wet mill to process their coffee cherries. Their dedication to ensuring that all the co-op's members develop both socially and economically is evident in their choices of profit reinvestment, most of which goes toward other income-generating activities such as purchasing farms and fulfilling the communities' social needs, where they built a road and a health center.
Although these cooperatives put so much effort and passion in their business model, they do not always have the adequate means to sustainably develop, better their livelihoods and move their communities forward. Sometimes, they lack financial capital, business and practical knowledge, market access and, in some cases, all the above and more.
This summer, as part of the Congressional Hunger Center's Zero Hunger Internship Program, I have the fortune of interning with NCBA CLUSA, a nonprofit organization that works to bridge those opportunity and knowledge gaps in cooperatives both domestically and globally. The organization commits to tracing the factors missing in the puzzle in order to fully alleviate poverty and hunger, especially in developing communities, and implements their programs to build an inclusive and sustainable economy through cooperatives.
This internship opens a door for me to dive into different economic development projects, and learn—from the highest level—the design and implementation processes that center cooperatives and individuals. Although I haven't been able to relocate to NCBA CLUSA headquarters in Washington, DC due to the COVID-19 pandemic, I have been integrated into a global team through an array of virtual tools. I have a chance to learn from experts and leaders who are committed to building resilient communities around the world, mainly through increasing the knowledge capacity of project participants.
I am still deciding on my post-graduation choices, but the past six weeks at NCBA CLUSA have sparked in me a solid interest in pursuing a master's degree in International Development, specifically in Agriculture and anti-hunger related programs. I want to continue directing my career down the path of supporting people who join together for the collective betterment of their communities.