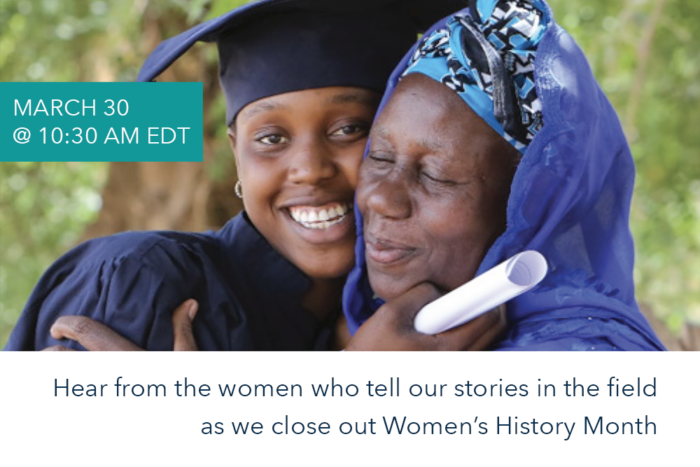 The theme of this year's Women's History Month is "Celebrating Women Who Tell Our Stories," so we asked some of the women who tell NCBA CLUSA's stories in the field to join us on Thursday, March 30 at 10:30 am EDT for a webinar. We'll hear about their work to advance gender equity in Mozambique, Senegal and Kenya, and learn how this work fits into our organizational approach to inclusive development.
During this webinar, you'll:
Learn why inclusive development is at the center of the work NCBA CLUSA does, and the stories we tell.
Hear about our gender equity work, key gender results and lessons learned from implementing inclusive programming.
Engage directly with the women leading our development work in Mozambique, Senegal and Kenya
We'll reserve 15 minutes for audience Q&A, so bring your questions for our panel. Moderated by Naana Adjei, Hubert Humphrey Fellow completing a professional affiliation with NCBA CLUSA, our speakers are Fatou Kiné Diop, Regional Technical Advisor for West Africa; Lydia Omamo, Country Director for Kenya; and Carolina Reynoso Pieters, Country Director for Mozambique.
MEET THE PANEL
Naana Adjei
Hubert Humphrey Fellow
Fatou Kiné Diop
Regional Technical Advisor, West Africa
Lydia Omamo
Country Director, Kenya
Carolina Reynoso Pieters
Country Director, Mozambique