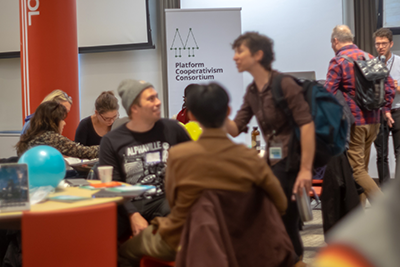 NCBA CLUSA president and CEO Doug O'Brien will guest-lecture at the New School tomorrow, February 19 from 6-7:50 p.m. EST. O'Brien's talk is part of the New School's graduate-level course Who Owns the World?, taught by noted scholar and platform cooperative thought leader Trebor Scholz.
O'Brien will discuss the American Cooperative Moment—one in which people find that they are excluded from their economy and society—and frame this generational opportunity in the context of past bursts of U.S. cooperative formation.
For more than 150 years, people have looked to the cooperative business model to ensure that workers, consumers and producers have a greater say in the market. O'Brien will illustrate common themes throughout cooperative history by exploring the unique circumstances that helped foster cooperative development in specific U.S. sectors. One key theme O'Brien will emphasize: cooperative growth has required cooperators to successfully promote greater public awareness, engage in political organization, and advocate for a supportive and equitable public policy environment.
Throughout, he will highlight the tremendous present-day industries cooperative pioneers helped build, whether in commodity markets (today, American agriculture co-ops have over two million farmers), consumer finance (American credit unions today have over 100 million members), or basic utilities (U.S. rural electric cooperatives are composed of nearly 50 million rural citizens).
Watch a livestream of the lecture at www.whoownstheworld.org/live-stream-1
O'Brien's lecture will also be archived and made available online through the course's website. For more information on this lecture and its reading list, click here.