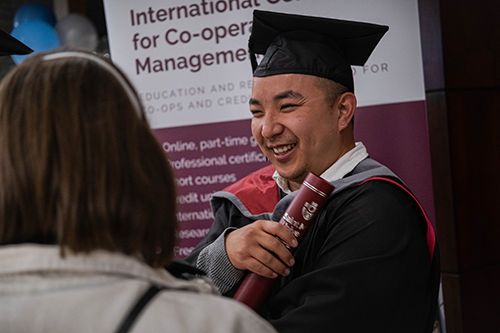 More than 70 founders, faculty, staff, students, alumni, partners and friends gathered at Saint Mary's University in Halifax, Nova Scotia, Canada last month to mark the International Centre for Co-operative Management (ICCM)'s 20-year anniversary. This event focused on learning, networking, visioning and celebrating and featured:
A day of storytelling, reflexivity, visioning and knowledge-sharing;
Local cooperative tours with Glitter Bean Café Co-operative, Bus Stop Theatre Co-operative, Healthy Minds Cooperative and Halifax Circus Co-operative;
A harbor boat tour and networking social;
Convocation ceremony for the 2023 class followed by an evening of celebration.
2023 marks 20 years since the launch of ICCM's flagship Master of Management, Co-operatives and Credit Unions program. Today, ICCM has grown to offer a suite of online, part-time graduate programs, short courses, a credit union leadership program, international co-op study tours and special topics webinars. ICCM's education programs have engaged more than 1,100 cooperative professionals in over 360 organizations from 41 nations. Additionally, ICCM is acknowledged as a global leader in cooperative research, which has culminated in symposia, books, journal articles and reports.
"During my decade plus with the Centre, I can see the impact of our work within the cooperative sector," said Karen Miner, ICCM Managing Director and Adjunct Professor. "We have built a global network of partners, meaningful involvement in key areas of research, and a wide spectrum of education opportunities for working professionals. Plus, we continue to innovate and adapt to meet the needs of co-operative enterprises of all sizes, types, sectors, and locations. Marking 20 years is a significant achievement."
Tom Webb, ICCM Co-Founder, Former Program Manager and Adjunct Professor, said his dreams for the program were "pretty ambitious" in the beginning. "Knowing it has exceeded them is very satisfying."
"The [Co-operative Management Education] programs gave me an opportunity to meet and exchange ideas with hundreds of people who fill me with hope—a hope that in these difficult times, we might yet build a better economy and a better world to leave our children and grandchildren," Webb added.
ICCM exists to elevate the global cooperative sector through education and research that is by, for and about cooperatives.