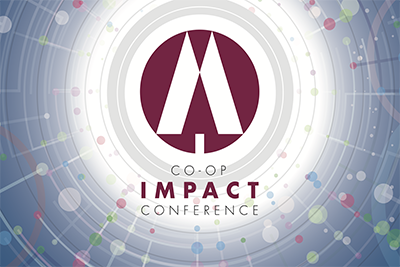 NCBA CLUSA is pleased to announce that it is partnering with National Cooperative Bank to bring 2019 Co-op IMPACT Conference attendees an exclusive look into the economic stability and sustainability strategies used by some of America's top cooperatives.
For 29 years, the National Cooperative Bank (NCB) has produced the NCB Co-op 100®, highlighting the economic impact of cooperatives and credit unions across the country. This group of co-ops alone generated $214.4 billion in revenue in 2017, moving the inclusive economy forward in a significant way.
"Stability and Sustainability for the Future: America's Top 100 Co-ops" will feature CEOs from some of the most innovative cooperative businesses among the Co-op 100®, including Michael Lord, president and CEO of State Employees' Credit Union and Ed Townley, president and CEO of Agri-Mark/Cabot Creamery Cooperative.
The CEOs will share strategies that encourage economic stability and sustainability for co-op members and communities. They'll also discuss upcoming challenges for their businesses, the broader co-op sector and solutions for the future.
This plenary session is sponsored by National Cooperative Bank and moderated by NCB Senior Vice President of Corporate Affairs John Holdsclaw.
NCBA CLUSA's Co-op IMPACT Conference is the only national cross-sector event for co-op developers, business executives, financers, policymakers, legal professionals and thought leaders. This year's theme, "Power in Purpose: Building the Next Economy" highlights how co-ops—as principled, purpose-driven businesses—are building a stable, sustainable economic future. Register now to help us build the next economy!