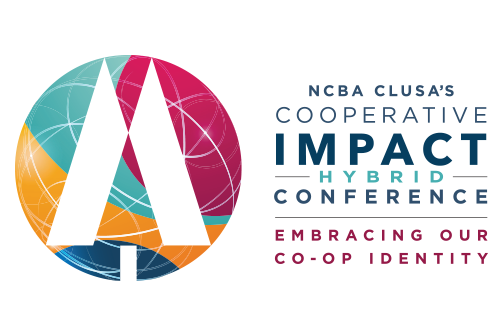 Cooperatives have the greatest impact when cooperators live up to their shared identity. The International Track at this year's Cooperative IMPACT Conference will explore how that identity finds expression. By putting their principles into practice, co-ops around the world are innovating for impact, strengthening communities and building resilience in the face of climate change.
Through keynote speakers and dynamic and engaging panel discussions, we'll see how the impact of that work is extending beyond borders and across generations. We'll meet co-op entrepreneurs who are using technology and innovation to transform their communities. We'll hear inspiring examples from co-ops at the cutting edge of renewable energy, putting people and planet before profits. And we'll learn how co-ops in Central America are strengthening their communities by creating economic opportunities at home.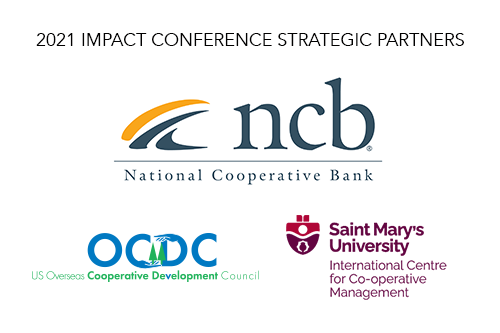 For the third year, NCBA CLUSA is partnering with the U.S. Overseas Cooperative Development Council (OCDC) to bring a rich and diverse International Track to the IMPACT Conference. As a strategic IMPACT partner, OCDC and its members bring a global perspective to the event and are rooted in a commitment to building a more prosperous world through cooperation. Made possible by the U.S. Agency for International Development, our International Track is sponsored by OCDC and its members.
Once again, this year's dedicated international programming is available for free to development practitioners. During registration, choose "International Sessions Only" on the Registration Type dropdown. Those registering for the entire virtual conference—still available at our exclusive early-bird rate of $50 for NCBA CLUSA members and $75 for non-members—can also select "International Sessions" as a free Additional Item during registration.
Each daily session will include short presentations and interviews, followed by videos and panel discussions. The International Track will close with the presentation of OCDC's International Co-op Innovation Award and closing remarks from Carla Decker, president and CEO of DC Credit Union and chair of NCBA CLUSA's Board of Directors; and Graciela Fernández Quintas, president of the Cooperatives of the Americas.
Check out the session descriptions below, and look for more details on programming and speakers the coming weeks!
Entrepreneurship is at the core of co-ops' identity and a means for wealth-building
Entrepreneurship, or implementing business ideas that respond to social needs in innovative ways, is at the core of cooperative identity. Cooperatives are innovative organizations that meet people where they are, transforming communities in ways that meet members' needs. They provide a path for growth that focuses on individual and community well-being, building wealth and shared prosperity for generations to come. Moreover, cooperatives that fully embrace their cooperative identity use entrepreneurial ideas to solve community problems and advance social transformation. During this session, we'll learn about cooperatives that are using technology in innovative ways to address social problems, as well as multi-stakeholder cooperatives with innovative governance systems and business models.
Featuring KPMG, ICA Youth Network, Venture 37; Kenya Union of Savings and Credit Cooperatives; Argentine Federation of Technology, Innovation and Knowledge Worker Cooperatives; Rural Delights Cooperative (Lebanon) and Eva Cooperative (Canada). 
Co-op values at work for present and future generations: tackling climate change
Cooperatives' values of equality, solidarity, social responsibility and caring for others are practiced not just with their members, but for humanity, beyond borders and across generations. Therefore, cooperatives are the ideal tool to be used as part of global, regional and national plans and alliances to mitigate climate change and protect our planet for present and future generations. Cooperatives are leading social business movements that understand the need for bold, collective, intra- and international action that places people and planet before profits. During this panel, we'll learn from cooperatives that have moved away from carbon and toward renewable energy, adopted and standardized environmentally-friendly production techniques (eg: carbon sequestration, water and soil protection, waste management, recycling) and have implemented production processes that advance a circular economy.
Featuring World Resources Institute, USAID Bureau for Resilience and Food Security, National Rural Electric Cooperative Association (NRECA), Equal Exchange (Mexico), Indian Farmers Fertilizer Cooperative (IFFCO), Revolusolar (Brazil) and USAID Mafatoky Sustainable Vanilla for People and Nature activity (Madagascar). 
Co-op principles in practice for stronger communities
Cooperatives are membership organizations that are owned and controlled by their members. But true cooperatives—as democratically managed enterprises based on equality, solidarity and social responsibility—also respond to the needs of their surrounding communities and are dedicated to the 6th Cooperative Principle of "cooperation among cooperatives" to contribute to community development. Cooperative members are connected to broader social interests that strengthen their communities and enhance well-being.
Additionally, cooperatives are schools of democracy, professional development and social growth—all crucial elements of strong communities. The 5th Cooperative Principle emphasizes the importance of education, training and information sharing, which is considered the "golden rule" for cooperative success. Strong cooperatives understand the cultural change that is needed within members and communities to build shared prosperity. Their people-centered approach and long-term vision encourages cooperatives to invest resources to train future cooperative leaders.
During this session, we'll hear from cooperatives in Central America that are making rural and urban communities stronger by creating economic opportunities and improving livelihoods through employment, food security, financial access, health and other social services. We'll also learn how cooperatives and other stakeholders can use the 5th Cooperative Principle to engage youth, providing them with the professional and personal advancement they need to remain in and contribute to the development of their communities.
Featuring USAID's Latin American Bureau, Economic Counsel for Latin America, U.S. Overseas Cooperative Development Council (OCDC), Los Pinos Cooperative (El Salvador), COCAFCAL/CAPUCAS (Honduras), World Council of Credit Unions (Guatemala), Universidad Cooperativa de Colombia, Global Communities, Seed Commons and Cooperative University of Kenya.