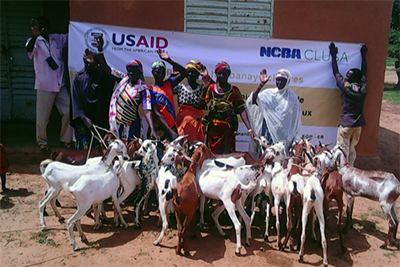 The local government of Sebba in the Sahel region of Burkina Faso is taking ownership of a resilience practice started by NCBA CLUSA's U.S. Agency for International Development (USAID)-funded Resilience and Economic Growth in the Sahel-Enhanced Resilience (REGIS-ER) project, marking a key step toward long-term sustainability.
Last year, REGIS-ER helped the Municipal Council of Sebba design a Commune Resilience Plan in partnership with RESA,[1] implemented by the non-governmental organization Humanity & Inclusion.
Before drawing up its Commune Resilience Plan, the Municipal Council reviewed various resilience activities. Based on its ability to lift up vulnerable people, directly respond to local requests for assistance and contribute to long-term sustainability, the council narrowed its focus to a livestock-breeding practice known locally as habbanaye.
Similar to the concept of "paying it forward," habbanaye is the practice of loaning an adult goat or other small ruminant to a neighbor or family member in need. Once the animal gives birth, it is returned to its owner and the offspring is raised for milk and meat. The cycle continues as more breeding occurs, spreading the wealth of livestock throughout the community.
"As mayor, I personally saw evidence that habbanaye produced successful results," Sebba Mayor Hama Amirou Ly said. "We, the Municipal Council, want to sustain and scale-up this activity… We're in an area where livestock is the main livelihood and this activity has both a cultural and an economic dimension. Anybody, even the most vulnerable people, can successfully participate in habbanaye."
The practice of habbanaye has proven more successful than one-time gifts of livestock to assist communities, according to local officials in Sebbe. And because habbanaye puts in place a system of asset rotation (after several months, the original animal is passed on to another family in need), the practice builds social capital and avoids suspicion. With previous one-time gifts of livestock, community leaders faced scrutiny from those who felt they were favoring friends or relatives in the beneficiary selection process.
Throughout the negotiating process with RESA, REGIS-ER coached the Municipal Council on raising awareness about the habbanaye project within the community and among stakeholders. RESA heard from community-led governance bodies called Citizen Working Groups [2] on the benefits of habbanaye, how the practice is managed and why community members were already on board.
When RESA gave the green light, animals were placed in all 18 villages of the commune and the five districts of Sebba, always in the presence of the local Citizen Working Group or other local representative body. RESA allocated a total of 7,700,000 CFA (USD $13,250) to the project. In the end, 77 new households—including 57 among the 18 villages—each received one male goat and four female goats during this round of placements.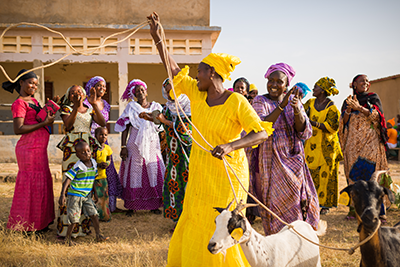 Citizen Working Group members were involved in every step of the process. They sat on the selection committee for animal breeders and, together with RESA staff, helped select the beneficiaries. They also informed community members about the Municipal Council's commitment to scaling-up habbanaye and are part of the monitoring committee put in place.
Learn more about the Citizen Working Group governance model here.
Community members unanimously welcomed the initiative to build resilience in the face of food and nutrition insecurity across the region. Habbanaye helps strengthen resilience not only by building family assets through livestock ownership, but also by increasing nutrition for children, who gain access to new and reliable food sources like goat's milk and chicken eggs. When families face drought or economic hardship, they are able to bounce back more quickly with these assets in place.
The Municipal Council's success reinforced its willingness to drive the Commune Resilience Plan agenda and ensure its implementation. From now on, the Commune Resilience Plan will be the entry point for projects and partners who are looking to impact the resilience of the commune, and will inform the broader Commune Development Plan. Building on this milestone, the commune is now actively seeking to identify partners that are willing to support this process.
[1] RESA is an acronym for "Renforcement durable de la résilience des communautés et des ménages vulnérables à l'insécurité alimentaire et nutritionnelle de la province du Yagha," or "Sustainable enhancement of resilience to food and nutrition insecurity among communities and vulnerable people in Yagha Province."
[2] A Citizen Working Group is a community-led governance model used by REGIS-ER that provides a way for communities to identify and discuss their needs and, together, find solutions, resources and stay accountable.