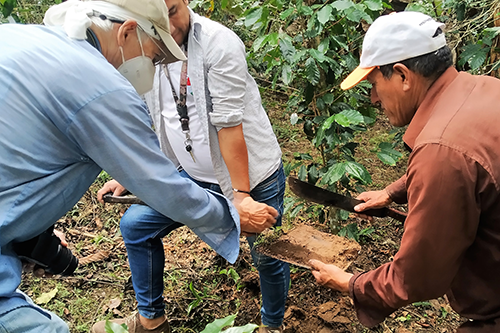 Cooperativa Agraria (Monte Azul) was founded in 2015 in San Martin, Peru by small landholders to overcome issues in the production and commercialization of coffee and cacao. As individuals, Monte Azul's members could not fully access markets, but as part of the cooperative, they can join forces and access bigger markets. Starting with just 20 members, Monte Azul now has 302 members across 18 communities, many of whom are now certified as Fair Trade, Organic and EU, opening their market access even further.
Monte Azul has taken advantage of multiple U.S. Agency for International Development (USAID)-funded Farmer-to-Farmer assignments implemented by NCBA CLUSA, helping the organization adapt and innovate along the way. As the cooperative has grown and gained new sponsors, it has also required new roles and positions. For example, a position for a coffee taster was suggested during the last assignment. This role was implemented and there is now a person managing quality control. Monte Azul personnel continue to take courses with the support of organizations such as Progreso Foundation.
Monte Azul also wanted to reach new clients and improve communication between the cooperative and their new/current clients, so they hired a community manager to take the lead. It was also recommended that the organization focused on improving communication between associates and the operational team. Now, Monte Azul communicates with members through WhatsApp and Facebook, making communication easier and more straightforward.
Recently, the organization has been struggling with composting and prioritizing soil health. Soil health and organic production intersect to impact the value chain and allow agricultural activities to operate sustainability. NCBA CLUSA's USAID-funded Farmer-to-Farmer program sent a highly skilled volunteer to assist cooperative members.
Bill Zimmerman is an experienced science educator, grant manager and primary investigator with technical competencies in agriculture, microbiology and chemistry. Bill is also a frequent Farmer-to-Farmer volunteer, with 15 assignments under his belt. Ten of those assignments included compost training, with objectives ranging from designing municipal organic compost facilities to customized pit or pile techniques for farmers in each region. His impressive experience made him an ideal candidate to assist Monte Azul.
Bill shared techniques for improving soil health and understanding the importance of factors such as pH and soil texture. Utilizing a "learning by doing" approach, Bill led multiple workshops with members to ensure they fully grasped these new techniques. Participants were then able to replicate these lessons and teach other cooperative members and agricultural associations. This led to an increase in liters of biol (a liquid created through composting) in two different sectors: Nueva Tacabamba with 600 produced, and Alto Palmeras with 400 produced. A total of 34 associates were involved, and 75 coffee extensions impacted. The benefits observed were an increase in plant health and reduction in the presence of diseases such as Mycena Citricolor.
Assignments like the one Bill was part of lead to amazing results for cooperatives like Monte Azul. In 2020, Monte Azul took advantage of a similar Farmer-to-Farmer assignment that focused on marketing and sales to develop a commercialization strategy to reach national and international markets to strengthen their export strategy. They formed a contact list of potential buyers and participated in events, as suggested by the volunteers. Through a trader in 2021, Monte Azul reached new coffee buyers. Based on the CANVAS business model introduced by Farmer-to-Farmer volunteers, Monte Azul applied to the Program to Promote Internationalization in Peru (PAI) fund administered by the Ministry of International Commercialization and Tourism (MINCETUR) in 2022. Monte Azul won a total of S/150,000 (approximately USD$39,000) to strengthen its exportation strategy and reach new clients in the specialized coffee market in Australia, among other regions, with plans to reach at least two new clients.
Now, Monte Azul is working on its strategic plan based on the CANVAS model provided by the volunteers to continue to reach one of the cooperative's main objectives: continuing to apply for more funds to expand and grow.