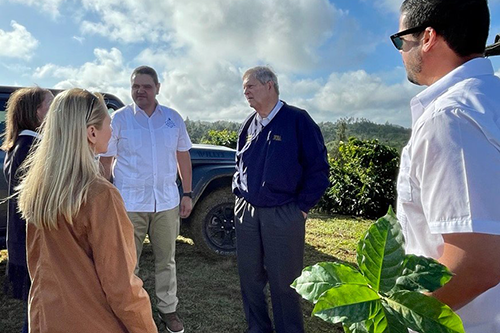 At an event in Jayuya, Puerto Rico today, NCBA CLUSA president and CEO Doug O'Brien joined Secretary of Agriculture Tom Vilsack and other key stakeholders for a panel on the U.S. Department of Agriculture (USDA)'s recent investment in partnerships for climate-smart commodities in Puerto Rico.  
NCBA CLUSA's $15 million Puerto Rico Climate-Smart Commodities project was among the first awarded under USDA's Partnerships for Climate-Smart Commodities. The historic overall $3.1 billion investment nationwide by USDA will expand markets for America's climate-smart commodities, leverage the greenhouse gas benefits of climate-smart commodity production and provide direct, meaningful benefits to agricultural producers—with a focus on small and underserved producers.
Over the next four years, NCBA CLUSA will lead a consortium of cooperatives, farmer organizations and minority-serving institutions in Puerto Rico to build climate-smart markets by incentivizing underserved farmers to adopt climate-smart agriculture and forestry practices for coffee production. The project will also build the resilience of smallholder farmers, their families and their communities. Because many of Puerto Rico's rural communities rely on coffee as the foundation of their economy, stabilizing and growing the market for climate-smart commodities—particularly coffee—is crucial to their future.  
"We are thrilled to support small farmers in Puerto Rico as they work to adopt climate-smart practices. Their participation in developing new markets for climate-smart commodities is imperative," said O'Brien. "To move the needle on climate outcomes, farmers need to work at scale and partner with a trusted, sophisticated intermediary that maximizes their benefits. As farmer-owned and controlled businesses, cooperatives are a perfect match for this opportunity." 
Today's event was held at Hacienda Encantos, a coffee farm tucked in the mountains of Jayuya. One of three coffee farms owned and operated by Puerto Rico Coffee Roasters, Hacienda Encantos is designed to "showcase sustainable, climate-smart practices," General Manager German Negron-Gonzalez said at the event. On an "island with limited resources," agricultural production must be "done and developed in the right way—the responsible way," he added.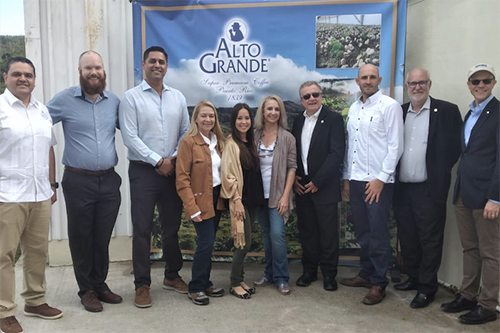 With $27 million of USDA's total investment supporting three projects in Puerto Rico, USDA is eager to support that work. In a tweet following the event, Secretary Vilsack recognized the "innovative and exciting" partners USDA is partnering with on the island. "I can't wait to see their work in action," he added.  
Joining Vilsack, O'Brien and Negron-Gonzalez for the event were Gloria Montaño-Greene, Deputy Under Secretary for Farm Production and Conservation at USDA; Ramón González Beiró, Secretary of Puerto Rico's Department of Agriculture; Anais Rodríguez Vega, Secretary of Puerto Rico's Department of Natural and Environmental Resources; and other local officials, policymakers, farmers and stakeholders.  
While in Puerto Rico, O'Brien also met with key partners of the Puerto Rico Climate-Smart Commodities project, including ProCafé, the island's primary association for coffee producers; La Liga de Cooperativas de Puerto Rico; and the University of Puerto Rico's Agriculture Experiment Station (UPR-AES).