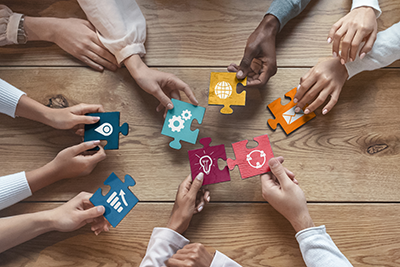 In this week's newsletter, Mike Mercer introduces readers to three emerging leaders in the credit union sector: Christian Hartley, Alfredo Martinez and Savanna Givens.
"Look around—there are future leaders in your midst. Encourage them. Empower them," Mercer writes. "Few things are more important than leadership development." Keep reading to learn how Christian, Alfredo and Savanna are navigating their careers and what advice they have for established co-op leadership.
And while you're thinking about "cooperation among cooperatives," take a moment to consider how you and your cooperative practice this principle. NCBA CLUSA is on a mission to document Principle 6 collaborations across the country so we can identify trends, document best practices and share this knowledge with you—our fellow cooperators!
Share your example of Principle 6
Principle 6 Newsletter – Building Leaders for the Fair and Inclusive Economy
October 27, 2021
We have talked often here about how cooperative businesses could become the foundation for providing people with a meaningful alternative to the existing societal pillars of concentrated power—in extractive commerce and paternalistic decision power in government. This is the 'long game' for co-ops. This is the strategy for transcending the marginal impact of good deeds and better prices here and there. The emergence of a fair and inclusive economy in local communities can lift the well-being of people.
But we have also talked about the importance of purpose-driven leadership. Without it, there will be no meaningful distinction for cooperative businesses in the eyes of those being served. Just another choice on the search engine or another trick in the algorithm. And most of the readers of this newsletter know that they will not be riding in the front seat of their co-op forever, or for long. Every good leader realizes that attention to future leadership development is among the most important of responsibilities. But who are these future leaders? How do they look at the future? Why do co-ops matter to them? And what do they expect from leadership development?
Well… let's find out.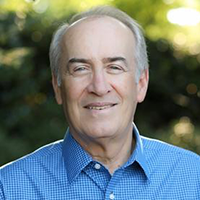 Meet the future of American cooperatives. Three young aspiring leaders. Presently living in the most impressionable stage of their careers for leadership development. Confidant. Creative. Resourceful. Building networks of peers. Learning sponges. And they have agreed to help us age-threatened leaders understand thought formation among the future leaders of cooperative businesses. At the moment, they are all working in the same sector (credit unions). Most networks of young people are siloed that way in U.S. co-ops. That will have to change if co-ops are to succeed at the long game.
Get to know these remarkable future leaders. They have agreed to journey with me over the next couple of years in the effort to form impressions (perhaps quarterly) about co-op leadership development. They are…
Christian Hartley
Hi y'all! I met Mike when he was inducted into AACUC's Hall of Fame in March of 2020. Yes, right before the world shut down. Since then, he has kindly offered his time to be a trusted resource for me, and a valuable source of information as I navigate my career.
I currently work at a Leadership Development Academy cleverly disguised as Mississippi Credit Union in a Branch Manager Role. My favorite thing about my current job is developing my direct reports for leadership roles in the CU. And, in the past five years, I've developed six of them. I love that I get the opportunity to impact the world by developing one leader at a time. I'm thrilled to share this passion with all of you—respected leaders in the CU and cooperative space. Mike and his Principle 6 Newsletter have been impactful for my professional development, and he's also connected me with leaders "like me" in our industry.
Alfredo Martinez
¡Hola! What an opportunity it is to contribute to the advancement of cooperatives and share my thoughts with you. I am humbled and honored and sincerely hope that my responses resonate with you all. In collaboration with Christian and Savanna, who are inspiring and formidable leaders in their own right, it is my pleasure to introduce myself.
Located in beautiful southern California, I serve my community through CBC Federal Credit Union. Leveraging the opportunity I have, I manage credit union resources and use them to help underserved and vulnerable populations to empower families and individuals economically. With this aspiration in mind, I am continuously learning more about the cooperative space as I believe collective action will propel us forward. I invite you to keep an open mind as you hear from three emerging leaders who have something to say about the direction of the cooperative movement.
Savanna Givens
Wow—hard to follow those two! I'm humbled to be recognized as a remarkable future leader alongside Christian and Alfredo, two incredible people who inspire me daily. Our connection reminds me of what cooperatives are all about: helping one another for the benefit of those we serve.
While my formal title at Hiway Credit Union is Executive Assistant, it doesn't reflect the many hats I wear. The advantage of working directly with seven senior leaders is that my role is malleable; it can include anything and everything. Among the services I provide are graphic design, community engagement, vendor management, event planning, grant writing, meeting production, website design, hiring and recruiting, social media, strategic planning and more. To put it another way, if you need it, I'll figure out a way to make it happen.
Thanks to all three for their willingness to be "mic'd up" as they learn and grow. So, let's start learning from them…
---
Mike Mercer: You guys read all the time. And, you learn from the impressive networks of people that you have actively worked to build. Most people find their way into cooperative work by twists of good fortune—by chance. That should change. How should young people learn about credit unions and other co-ops in the future?
Savanna: I've had credit union accounts since I was a child, but it wasn't until I started working at Hiway that I realized what a co-operative really was. That lack of awareness is commonplace among young people. As a trend-driven society, attracting the next generation of workers will necessitate a stronger presence on the social networks they already use. The battle for attention is on. Rather than trying to convince them to come to us, let's go to them. Younger generations consume much of their content through social media, directly impacting their life choices. They are more likely to trust the opinions of those who have chosen to participate in online networks. Better advertising of the collaborative nature of cooperatives, on a platform they trust, is needed to raise awareness of the opportunities co-ops can provide.
Christian: I agree with you 100 percent, Savanna—we've got to meet the next generation where they are and stop requiring them to find us. I'll also add that we are missing unique opportunities to brand our team members as ambassadors for a rewarding career that can last a lifetime. What I believe people miss about credit unions is that there is a space for you, whatever your passion point or ability, that is needed in the cooperative space. "Preparing the next generation of credit union leaders" is something that should be done at all levels of the cooperative space.
Alfredo: Echoing the thoughts of Savanna and Christian, [we can reach young people] through community outreach, digital platforms and servant leadership. Whether you are looking to hire young talent or attract young members to your organization, the challenges of reaching young folks in a digitally driven environment are perplexing and certainly add stress to graying credit unions. However, you can still catch them! This is where we as a movement can differentiate ourselves and excel grandly. Instill your organization's ethos, speak their language, be about it, and have the technology to back it up. We should bring the energy and excitement that the origins of the credit union movement once exemplified and actively share that with your community. It is our responsibility to ensure the success and continuation of this movement and we must adapt accordingly if we are to survive in an ever-growing digital marketplace.
Mike: How about a tougher question? Now that you are well established at your credit unions, what is it about the cooperative business model that makes you willing to "pass" on the chance to get rich in the for-profit sector or to effect social change in government or at a major foundation?
Alfredo: While a lucrative career in the for-profit sector sounds appealing, I think about the impact I aspire to make. Working alongside like-minded individuals who genuinely care about their members and colleagues is an intangible benefit that I place great value on. In other words, I buy into the ethical, sustainable approach to business. Ultimately, the ability to create economic impact through activities that have social/cultural implications is the biggest draw for me. This is reaffirmed many times over when I witness and experience the day-to-day interactions with members and colleagues. However, let's not set a precedent that a career in the cooperative space does not pay adequately and that KPI's like ROI are king. If we are to thrive and build momentum, holistic succession/strategic planning needs to take place and must consider the changing needs of emerging leaders.
"We are proud to be changemakers." – Savanna
Savanna: We are proud to be changemakers. Although cooperative businesses may differ, we are united in our desire to make a difference in people's lives. Cooperatives can be the best of both worlds, offering opportunities for advancement in addition to fostering an environment conducive to purposeful accomplishments. My long-term commitment to the cooperative industry requires that 1.) You enable me to make a positive impact in the world and 2.) You supply me with resources to grow and develop myself and my career. That requires the investment of time, money and energy in the next generation of workers.
Christian: I'll add to Savanna's comments by saying that investing in the next generation of credit union leaders is paramount for the longevity of the cooperative movement. Further, the pay gap between cooperatives and for-profits should not be that large when it comes to attracting and retaining talent. Co-ops can and should reward their team members financially and professionally by investing in them. Like Alfredo, what has kept me in the movement is the belief that I can make an impact without compromising my integrity. Please don't confuse that for martyrdom. We are a generation that is vitally aware of the value we bring to the table, and we are willing to move to get to the organization that is willing to recognize and reward that value. If you don't want to lose your talent to for-profit [firms], tell [your employees] you value them, pay them accordingly, and develop a clear path for their professional success.
"What has kept me in the movement is the belief that I can make an impact without compromising my integrity." – Christian
Mike: At your stage in career development (already leading, always contemplating), how can older-generation leaders best help you accomplish your leadership aspirations?
Christian: Mike, let's call them OWLs—"Older, Wiser, Leaders." Three things: 1.) Tell us, "You have a unique skill set that brings value to the organization," 2.) Develop us… "I see you being at the C-level in the next five years. Here's what you need to be thinking about/working on" and 3.) Mentor us… "When I was preparing for my C-level interview, here's what I wish I had known—this may be helpful to you." Understand that this intentional development may mean you "lose" a team member to another department or another credit union. But please, do not allow your up-and-coming team members' ambition to be a threat. See that as the ultimate source of your success—when they succeed, you succeed, and your membership reaps the benefit.
Alfredo: Observing and experiencing transactional and transformational leadership has made me appreciate those who sincerely make an effort to teach and share their experiences. New-age leadership requires mentorship paired with empathy. Older generation leaders need to make sure we understand the team's goals and needs, keeping alignment top of mind. In other words, train me as if I was preparing to leave but treat me well, so I want to stay. This level of commitment will aid people like myself as we navigate through our careers while reinforcing the long-known idea of leading by example.
"Leadership requires mentorship paired with empathy." – Alfredo
Savanna: If young professionals are not given promotional opportunities, it will be the cooperative industry that suffers. My manager took a chance promoting me to my current role. While I may not have had an expansive resume, I was an existing employee who showed drive to succeed. I was engaged, motivated and persistent—skills that are hard to teach. Young leaders, when given the opportunity, are eager to take on new challenges. Many leaders express reluctance to delegate authority to those with less experience, but we no longer live in a time when having a degree automatically equates to being a better leader. Be intentional about giving opportunities to those who are curious and have an appetite for growth. Be open to looking at what leadership is in a new light; the extent of a person's resume alone doesn't ensure their success. Taking that initial leap of faith is hard, but it's necessary for our industry to thrive.
"Be intentional about giving opportunities to those who are curious and have an appetite for growth." – Savanna
---
Great insights. As you can already see, there is tremendous runway out in front of these folks. We'll check in with them periodically to learn how their thinking evolves, and how current co-op leaders become more creative about finding and motivating the future leaders of the American cooperative system.
These are the people that can build the foundation for a fair/inclusive economic alternative. Given license, they will take co-ops to a stronger leadership role in the economy. Look around—there are future leaders in your midst. Encourage them. Empower them. Enable them to build their own learning networks. Invite alternative views but insist on teamwork. Acknowledge individual achievement but reward common success. Few things are more important than leadership development.
Stay tuned (especially you OWLs),
Mike