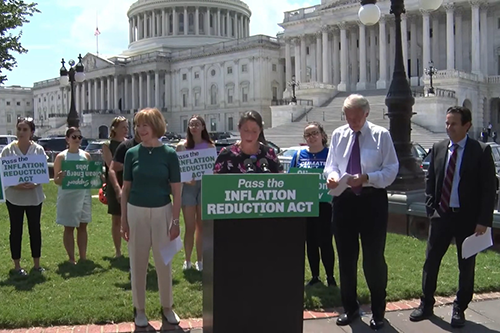 The U.S. Senate on Sunday passed the Inflation Reduction Act, a sweeping bill that focuses on policy related to climate change and corporate taxes. The legislation, which required Vice President Harris's tie-breaking vote for passage, now heads to the House of Representatives and President Biden for likely passage later this week. The legislation has significant ramifications for the cooperative community.
"With the Inflation Reduction Act, Congress again recognizes that cooperatives have a critical role to play when the nation seeks to tackle big challenges," said Doug O'Brien, president and CEO of NCBA CLUSA. "As people-centered businesses that are rooted in local communities, co-ops have the ability to get better outcomes for taxpayers and for their communities."
When Senate Majority Leader Chuck Schumer (D-NY) and Sen. Joe Manchin (D-W.Va.) introduced the Inflation Reduction Act in late July, the National Rural Electric Cooperative Association (NRECA) applauded the legislation, citing its direct federal payments to electric co-ops as incentives for developing energy innovations.
"As electric co-ops continue to innovate and lead, direct access to energy innovation tax incentives is absolutely critical," NRECA CEO Jim Matheson said in a news release. "This bill creates direct incentives for co-ops to bolster investments in carbon capture, grid modernization, renewables, battery storage and other energy technologies."
The Senate legislation contains several policy provisions of interest to electric cooperatives, including two of NRECA's top legislative priorities:
Direct Pay

The bill would give electric cooperatives tax parity with industry counterparts when they deploy new energy technologies, including carbon capture, nuclear, energy storage and traditional renewables.

USDA Financial Assistance for Clean Energy

The bill proposes a $9.7 billion grant and loan program designed specifically for electric cooperatives that purchase or build new clean energy systems.
The National Farmers Union (NFU) also strongly supported the legislation, which it said invests $40 billion in agriculture and rural communities. "NFU welcomes the major investments in voluntary, incentive-based conservation programs for agriculture included in the Inflation Reduction Act," NFU President Rob Larew said in a news release. "These provisions will support farmers and ranchers in continuing to expand their role in fighting climate change, while also supporting the resilience of their operations."
With $370 billion allocated to climate and energy programs, the legislation would represent the largest climate investment in U.S. history. It includes more than $20 billion to support farmers and locally-led organizations in adopting climate-smart agriculture. Farmer-owned cooperatives have an integral role in helping farmers scale and accelerate the adoption of new production practices. Internationally, NCBA CLUSA is a leader in promoting climate-smart agriculture through cooperative development.
This important legislation also impacts provisions related to allocation of patronage for farmer cooperatives and resources for financially distressed farmers.
"We look forward to continuing to work with Congress and the Administration as this historic legislation progresses," O'Brien said.