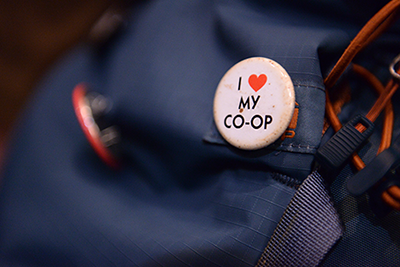 The country and the world are at a pivot point. The global pandemic has amplified fundamental issues around inequality, equity, the environment and the fragility of our democratic institutions. More people are grasping for strategies that are both resilient and that empower people in their economy.
Cooperatives—as people-centered, democratically-controlled businesses—can play a much larger role. But for that to occur, more people—members of cooperatives, policymakers and thought leaders—need a fundamental understanding of cooperative identity. Without a deeper understanding of the cooperatives, neither those within nor outside the cooperative community will capture the potential of cooperative enterprise in this moment that calls for co-ops to make a greater impact.
What is the cooperative identity? The apex association for cooperatives around the world, the International Cooperative Alliance, worked with the global cooperative community to update the cooperative identity in 1995 by setting out cooperatives' shared values and principles. For its World Cooperative Congress this December, ICA has chosen "Deepening Our Cooperative Identity" as its theme. NCBA CLUSA has embraced this invitation to consider our cooperative identity more deeply. With this deeper understanding, co-ops will make the impact so badly needed. For this to occur, cooperatives must: 1.) understand the cooperative identity; 2.) share the cooperative identity; and 3.) challenge themselves to live up to the cooperative identity.
Understand
To deepen our co-op identity, co-ops must start at home. Do the members, board and staff understand the shared values and principles? Is there a constant opportunity for these internal stakeholders to learn about what makes co-ops distinctive from other types of businesses and what all co-ops have in common? Cooperatives across sectors are providing a "yes" to these questions. The Credit Union National Association (CUNA) hosts the Credit Union Development Education (DE) program, a continuing education program that unites credit union professionals in furthering the mission of their cooperative businesses. CHS, Inc. has created an entire website detailing the benefits of cooperative ownership in the agriculture sector. And the University of Saint Mary's-Halifax is teaching cooperators everywhere who return to their food co-ops, worker co-ops, cooperative development work and more with honed knowledge of cooperative management.
But much more must be done. The best efforts feature dedicated resources and staff focused on co-op education. Co-ops and co-op associations need to cultivate a culture of continuous learning by embracing new technology and creating compelling training and education programs. If the members and staff of cooperatives do not understand the cooperative identity, there is a very limited opportunity to share the cooperative story with external stakeholders in effective ways.
Share
While it is crucial for people inside co-ops to have a deep understanding of the model, we also need to share the power and difference of co-ops with outside stakeholders. In 2019, we released the ABCs of Cooperative Impact, a framework of metrics that shows the impact of cooperatives across a range of areas such as business sustainability; community commitment; and equity, diversity and inclusion. Within these discrete areas of impact, there needs to be a constant drumbeat before policymakers and thought leaders on how co-ops put people and local communities at the center of the business. The recent paper Policy Strategies to Build More Inclusive Economies with Cooperatives identifies five steps on how to engage with policymakers:
Educate and connect Advocacy starts with relationship-building, not requests.
Leverage members and data Be deliberate about using members and data to reflect economic and social impact.
Tell a new policy story Contextualize co-ops within the current political environment rather than leaning too heavily on the historical success of co-ops.
Collaborate with other cooperatives and non-cooperatives Policy victories are most often achieved through coalition-building.
Be focused and strategic Center advocacy on policies that are good for co-ops and the broader community.
Challenge
As cooperators, we must challenge ourselves to live up to our shared principles if we expect to deepen the impact of cooperatives in our communities and sharpen the co-op distinction in the eyes of external stakeholders. For example, the co-op identity includes the shared values of equity, equality and solidarity. These values have been part of the cooperative business model for generations and have been expressed in the formal co-op identity since at least 1995, well before groups the likes the Business Roundtable of the nation's largest corporations embraced the gauzy idea of stakeholder capitalism and even before groups like B-Corp sought to include interests beyond those of investors into a business. So cooperatives should be the natural leader in areas of diversity, equity and inclusion. While many co-ops are doing great work in this critical area, it is time for all cooperators to ask themselves if there is more they can do to live up to their cooperative identity.
It is time for all cooperators to ask themselves if there is more they can do to live up to their cooperative identity.
More people in the cooperative community need to understand the co-op identity, share the co-op story and continually challenge themselves to the live up to the co-op values and principles. As this occurs, co-ops will be able to answer this generation's call to create a more inclusive economy.
—Doug O'Brien is president and CEO of NCBA CLUSA, where he works with the cooperative community to deepen its impact on the economy.