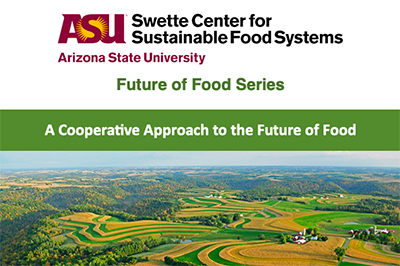 NCBA CLUSA is partnering with Arizona State University's Swette Center for Sustainable Food Systems on the latest event in a series of conversations the center is hosting on the future of food.
Held on Tuesday, November 12 from 4-6:30 p.m., "A Cooperative Approach to the Future of Food" will feature John and Carol Zippert, Cooperative Hall of Fame inductees who spent decades with the Federation of Southern Cooperatives; Jerry McGeorge, Executive Vice President of Organic Valley; Sarah Tyree, vice president of Policy and Public Affairs at CoBank; and Doug O'Brien, president and CEO of NCBA CLUSA.
Moderated by Swette Center Executive Director Kathleen Merrigan, this discussion will explore what today's climate of economic exclusion, inequality and political divisiveness could mean for the future of food, and how cooperative are poised to impact that future.
Panelists will unpack lessons from history and discuss current opportunities for cooperatives to shape the food system in America.
Following the panel discussion, there will be time for audience participation and a post-program reception with rooftop views.