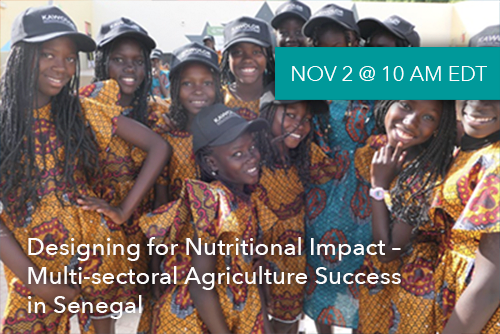 In November 2022, the National Cooperative Business Association CLUSA International (NCBA CLUSA) will close out the five-year Feed the Future Kawolor Activity in Senegal. Kawolor is an activity funded by USAID/Senegal as part of its contribution to the Senegalese Government's strategy in the fight malnutrition, food insecurity and poverty.
This project aimed to curb malnutrition and provide food security to Senegal by empowering organizations and regional resources partners to scale up the Nutrition Led Agriculture (NLA) approach and utilize market opportunities for sustainability. The overall activity objective aimed to increase the production, consumption and commercialization of healthy and nutritious foods while encouraging household level consumption of diverse diets, focused primarily on women of reproductive age and children under two years of age.
To celebrate the impact and legacy of the activity, NCBA CLUSA is hosting a webinar on Wednesday, November 2, 2022 from 10:00 – 11:00 AM EST. The discussion will highlight the Nutrition Led Agriculture (NLA) approach, including fundamental principles, implementation, tools, challenges and successes, and long-term aspects of the approach. We are looking forward to participation from Kawolor staff and USAID to reflect on the project.