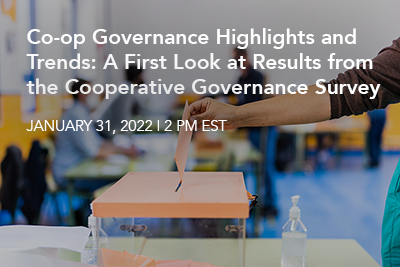 Decades of research finds that strong governance is essential for cooperatives to thrive. Yet the data needed to benchmark, reflect on and improve governance practices within co-ops is often missing. Led by the University of Wisconsin Center for Cooperatives (UWCC) with funding from CoBank and the Cooperative Development Foundation, the Cooperative Governance Research Initiative is filling that gap.
In October, UWCC invited more than 4,400 cooperatives in the U.S. to be a part of this ambitious new study to examine governance practices across sectors and over time. NCBA CLUSA partnered with UWCC on the survey process to allow for NCBA CLUSA's co-op membership to participate in the survey and to access the aggregated results of the survey.
Join us on January 31, 2022 at 2 pm EST for a sneak peek of the results of the CGRI survey. During "Co-op Governance Highlights and Trends: A First Look at Results from the Cooperative Governance Survey," Researcher Dr. Laura Hanson Schlachter will share takeaways from UWCC's preliminary analysis of survey data and invite participants to help identify key themes to explore deeper in follow-up interviews. UWCC Executive Director Courtney Berner will also share how the research team plans to use CGRI data to develop practical tools to help cooperatives of all kinds advance their governance practices.
CGRI will benefit cooperatives, scholars and policymakers by addressing a critical knowledge gap. It will also benefit cooperatives by informing the development of practical, evidence-based tools cooperatives can use to advance their governance practices such as a director compensation index, a guide for improving board-manager communication, and case studies of highly effective member engagement strategies.