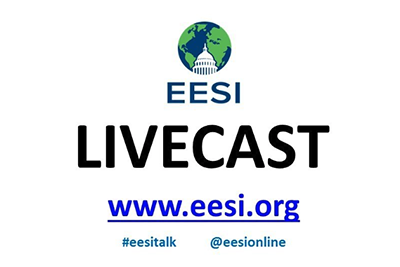 NCBA CLUSA president and CEO Doug O'Brien will join policymakers and other top co-op executives on Capitol Hill this month for a briefing about innovative utility programs that are working to alleviate energy burdens faced by rural households in the U.S.
The July 16 briefing, called "Equitable Solutions to Rural Energy Burdens," will be streamed via live webcast at 2 p.m. Those interested can also attend in person in Room HC-5 of the U.S. Capitol. Please RSVP to expedite check-in!
Rep. James Clyburn (D-SC) will speak at the briefing, and Rep. G. K. Butterfield (D-NC) has been invited. Joining O'Brien are Curtis Wynn, CEO of Roanoke Electric Cooperative and president of the National Rural Electric Cooperative Association; Chad Lowder, CEO of Tri-County Electric Cooperative; Chris McLean, Assistant Administrator of USDA's Rural Utilities Service; Mary Shoemaker, Senior Research Analyst for the American Council for an Energy-Efficient Economy; and Mark Cayce, General Manager of Ouachita Electric Cooperative.
Energy efficiency is a key strategy for lifting the energy burdens Americans face. But utilities serving rural communities often face challenges funding and/or delivering these services to their members, and the upfront costs of energy upgrades are often unaffordable for their rural customers.
The U.S. Department of Agriculture's Rural Energy Savings Program (RESP) can help fill this funding gap for rural utilities by providing no-interest loans to fund cost-effective projects, which can be repaid by customers on their utility bills over time—a strategy called on-bill financing.
In 2017, the Environmental and Energy Study Institute (EESI) and NCBA CLUSA launched the Partnership for Advancing an Inclusive Rural Energy Economy. This program helps rural electric co-ops develop on-bill financing programs that finance energy efficiency upgrades at no upfront cost to their member-customer. By providing the ability to finance energy efficiency improves over time, on-bill financing is an affordable way to integrate technology that ultimately reduces energy costs, improves reliability and increases efficiency.
The partnership is part of a broader effort by many co-ops and other rural utilities to play a greater role in rural economic development by providing their member-customers with a wider range of services, delivered equitably to members at all income levels.
This month's briefing will highlight these and other innovative efforts to cut energy costs and, ultimately, support jobs and rural economic growth by keeping more dollars in the local economy.