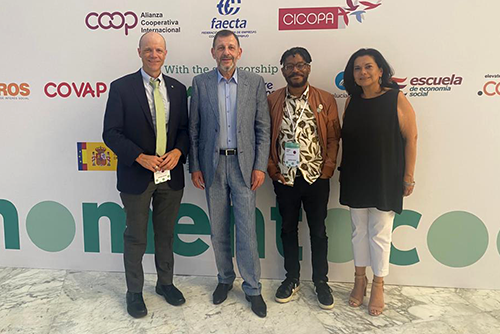 At the International Cooperative Alliance (ICA)'s General Assembly in Seville, Spain last week, leaders of the U.S. cooperative community were grateful for the opportunity to connect with Illia Gorokhovskyi, chair of COOP Ukraine's Board of Directors.
NCBA CLUSA president and CEO Doug O'Brien, joined by Carla Decker and Esteban Kelly, chair and 1st vice chair of NCBA CLUSA's Board of Directors, respectively, met with Gorokhovskyi to learn how co-ops in Ukraine continue to serve their members during this challenging time.
In a recent Facebook post, COOP Ukraine reported that a co-op bakery in Chernihiv worked nonstop for 52 days, baking 4,000 loaves of bread in wood-burning ovens amid the roar of missiles to feed their community. COOP Ukraine also continues to help arrange accommodations and meals for internally displaced Ukrainians, leaning on their co-op educational institutions when possible.
The group also discussed the U.S. cooperative community's support of Ukrainian cooperators through donations to the Cooperative Development Foundation (CDF)'s Disaster Recovery Fund. Those resources are already being used to meet the immediate needs of Ukrainian cooperators and will also go toward helping co-ops rebuild in the country.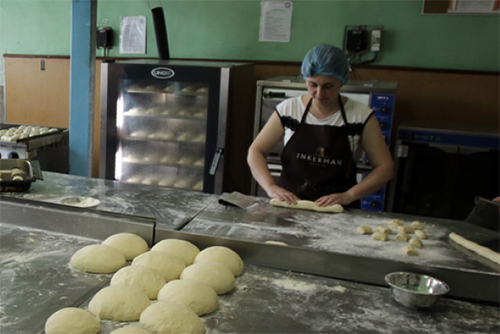 An initial donation from the Disaster Recovery Fund to the Podolian Agency for Regional Development (PARD), a Ukrainian nonprofit, has also helped meet the immediate needs of displaced Ukrainians.
According to a report provided by the organization, PARD used initial funds to support more than 1,500 internally displaced persons (IDPs) at two shelters in Ukraine's Vinnytsia region. Donations supported the purchase of refrigerators, laundry machines and other kitchen and household equipment to improve the living conditions of shelter residents and make their stay more comfortable.
One IDP, whose husband stayed in Donetsk to fight, told PARD that she and her children are grateful for the hospitality provided by the shelter. "Here we have everything we need. We can cook, do the laundry… The only thing we need is peace," she said.
You can still contribute to the Disaster Recovery Fund.
---
The Cooperative Development Foundation (CDF)'s Disaster Recovery Fund helps cooperatives and cooperators get back on their feet after disasters and other emergency hardships. One hundred percent of money donated to the Disaster Recovery Fund will go to support cooperatives. CDF does not charge an administrative fee for management of the fund.