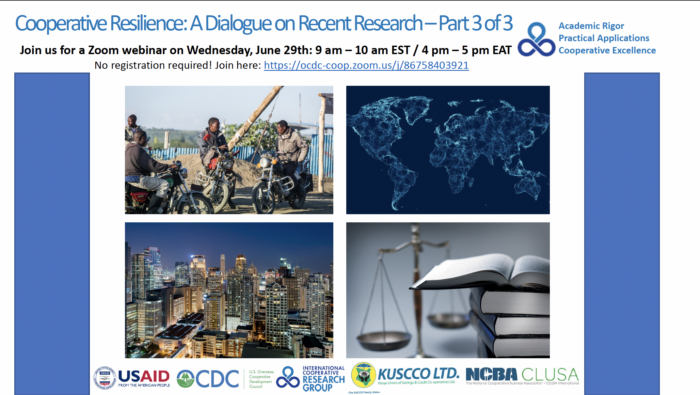 Join NCBA CLUSA and the U.S. Overseas Cooperative Development Council (OCDC)'s International Cooperative Research Group for "Cooperative Resilience: A Dialogue on Recent Research," a three-part virtual series.
Part 3 of the series will bring together NCBA CLUSA and KUSSCO to discuss the resilience-oriented findings from their CR2 research.
NCBA CLUSA experts will discuss the implications of their findings on the CLARITY toolkit, working to enhance enabling policy environments for cooperative development both globally and locally, and KUSSCO experts will offer a deep dive into the characteristics of the boda boda sector in Kenya and provide the youth-oriented policy recommendations emerging from their research.
This moderated discussion will take place Wednesday, June 29 from 9-10 am EDT.
Click here to join:  https://ocdc-coop.zoom.us/j/86758403921