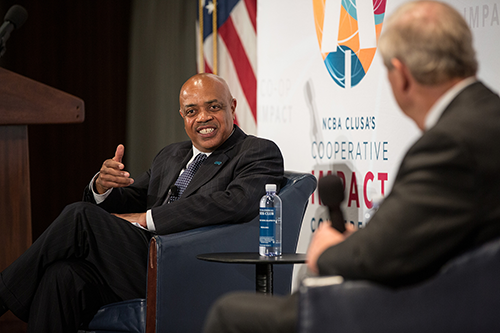 We've added two more weeks to save on this year's premier co-op conference! With opportunities for virtual and in-person programming and networking, IMPACT 2022 offers something for everyone—whether you live in the Washington, DC Metro area, plan to travel here in October or prefer to attend from the comfort and convenience of your home or office.
Reserve your space by Wednesday, August 31 to take advantage of our exclusive early-bird rate of $55 for NCBA CLUSA members and $105 for non-members on all virtual programming. After August 31, member and non-member rates will increase to $75 and $155, respectively. Attendees planning to join us in person at the National Press Club can save even more when they register by August 31.
Register by August 31   See all our registration options
Don't miss this opportunity to network with hundreds of co-op developers, financers, community and city leaders, innovators, thought leaders, economists, policymakers and development practitioners. Under the theme "Forward, Together," IMPACT 2022 will challenge the cooperative community to capture a generational opportunity—applying the lessons we've learned from the past two exceptional years to our work as we move forward.
This year's programming echoes that challenge. Presented by the Cooperative Development Foundation and sponsored by the Robert Wood Johnson Foundation, our Diversity, Equity and Inclusion Track will unpack lessons from a multi-year peer learning cohort of co-op leaders representing 41 co-ops dedicated to advancing the DEI conversation across the cooperative community. Our IMPACT Track sessions will advance the conversation around climate action, Principle 6, equitable co-op ecosystems, historically underserved farmers and more. And our International Track will explore co-ops as engines of locally-led development; using co-ops to advance donor priorities; co-ops in times of crisis; and co-ops and social inclusion. These sessions are free of charge and made possible by the U.S. Agency for International Development (USAID) and generously sponsored by our strategic partner the U.S. Overseas Cooperative Development Council (OCDC) and its members.
See the agenda    Meet this year's speakers
THANK YOU TO OUR IMPACT CONFERENCE STRATEGIC PARTNERS