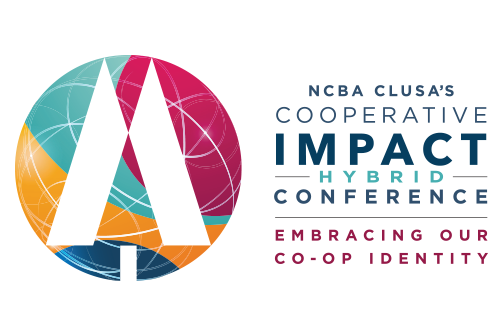 We've added two more weeks to save on this year's premier 2021 Cooperative IMPACT Conference! With opportunities for virtual and in-person programming and networking, this year's hybrid event offers something for everyone—whether you live in the Washington, DC Metro area, plan to travel here in October or prefer to attend from the comfort and convenience of your home or office.
Reserve your space by Tuesday, August 31 to take advantage of our exclusive early-bird rate of $50 for NCBA CLUSA members and $75 for non-members on all virtual programming. After August 31, member and non-member rates will increase to $75 and $100, respectively.
Don't miss this opportunity to collaborate and engage with hundreds of co-op developers, financers, community and city leaders, innovators, thought leaders, economists and policymakers. The Cooperative IMPACT Conference is the only national, cross-sector event elevating the national conversation around a trusted, proven way to do business and build communities.
Programming
Under the theme, "Embracing Our Co-op Identity," the 2021 Cooperative IMPACT Conference will challenge cooperators everywhere to deepen their understanding of the values and principles that truly make cooperative enterprise unique. This year's programming echoes that challenge. We'll explore the cooperative difference in home care, learn how worker cooperatives can pave the way to a just and equitable recovery, reimagine cooperative Appalachia, hear how the Colorado solar energy industry is providing a powerful approach to expanding the cooperative economy, and much more! Our dedicated international programming—available to development practitioners free of charge—will cover entrepreneurship, climate change and co-op principles in practice. Made possible by the U.S. Agency for International Development (USAID), these sessions are sponsored by the U.S. Overseas Cooperative Development Council (OCDC) and its members.
In-person sessions
Please note that our in-person programming on October 7 and 8 is available at an additional fee to help cover venue and food costs. If you plan to attend one or both days of our in-person programming at the National Press Club on October 7 and 8, please add "Thursday In-Person" and/or "Friday In-Person" under "Additional Items" during registration. NCBA CLUSA is working with the National Press Club to ensure a safe environment for our event planners, participants, guests and attendees.