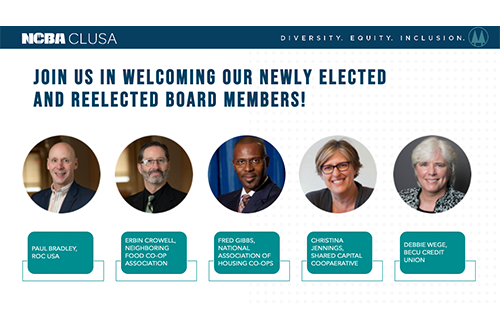 NCBA CLUSA is pleased to share the results of the association's 2022 Board of Directors Election, announced at today's Annual Membership Meeting by Karen Zimbelman, chair of NCBA CLUSA's Nominations Committee and Senior Director of Membership and Cooperative Relations at National Co+op Grocers.
The following individuals were reelected to the board: Paul Bradley, founding president of ROC USA©, a nonprofit social venture scaling resident ownership of manufactured home communities; and Erbin Crowell, executive director of the Neighboring Food Co-op Association (NFCA), a federation of food co-ops across New England and New York State that are working together toward a shared vision of a thriving regional economy rooted in a healthy, just and sustainable food system and a vibrant community of cooperative enterprise.
NCBA CLUSA welcomes the addition of three new board members this year. Fred Gibbs, president of the National Association of Housing Cooperatives (NAHC) and owner and founder of FKGibbs Company, LLC, a Kansas City-based property management company; Christina Jennings, executive director of Shared Capital Cooperative; a national loan fund and federally certified Community Development Financial Institution (CDFI); and Debbie Wege, cooperative community advocate for BECU, a Washington state-based credit union committed to improving the financial well-being of its members and communities.
"NCBA CLUSA membership was privileged to choose from a robust lineup of candidates this year, and the association is grateful to everyone who stepped forward," said NCBA CLUSA president and CEO Doug O'Brien. "The rich and diverse backgrounds of our newly-elected and reelected board members will deepen NCBA CLUSA's ability to better serve our members and the cooperative community."
FRED GIBBS
For more than 13 years, Gibbs has worked with NAHC, where he is a Registered Cooperative Manager, to promote both the new development of housing cooperatives and the continued preservation of existing co-ops. With more than 30 years of experience in subsidized housing management, Gibbs is uniquely suited to navigate the ever-changing world of housing and urban development.
"Housing is a fundamental human right," Gibbs said in his candidate statement. "Cooperative business development discussions must have at their core an awareness of and solutions to the housing needs of communities.
Read Fred's full candidate statement
CHRISTINA JENNINGS
Jennings, joining the board from Shared Capital Cooperative, has more than 20 years of experience in community development finance in the U.S. and internationally with a focus on
economic justice and creating equitable access to capital. She joined Shared Capital in 2008, where she provides strategic leadership, overseas lending and leads capitalization efforts.
In her candidate statement, Jennings noted a renewed interest in the cooperative business model, coupled with "unprecedented" levels of capital from organizations and individuals "in search of meaningful investments that can have an impact." The challenge will be to "ensure that these investments bring real and sustained change," she said.
Read Christina's full candidate statement
DEBBIE WEGE
Wege brings nearly 40 years of experience in the credit union movement to NCBA CLUSA's Board of Directors. In her innovative role at BECU, she develops and implements robust programs that ignite passion and commitment among leaders and employees to credit union principles and purpose-based decision making. She is a certified National and International Credit Union Development Educator (CUDE/I-CUDE) through the National Credit Union Foundation.
"The role that credit unions and other cooperatives play in people's lives and communities… provides healthy competition in the market and robust opportunities for human and environmentally centered solutions we can all benefit from," Wege said in her candidate statement.
Read Debbie's full candidate statement
The NCBA CLUSA board directs and inspires the organization as it deepens the influence and impact cooperatives have in communities in the U.S. and around the world. The board also brings consistent focus to the association's longer-term impacts and future opportunities to serve the needs of its members.
Thank you to our members for making your voice heard in this year's election. Your participation helps us set the strategic vision for the organization, ensuring that NCBA CLUSA remains a dynamic voice in the cooperative space.