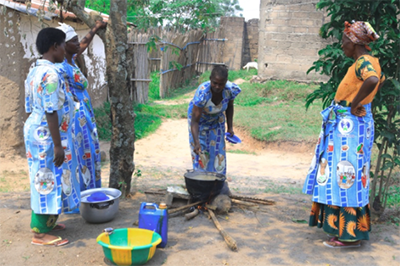 In two recent letters, NCBA CLUSA asked leaders of the House and Senate Appropriations Subcommittees on Agriculture and Rural Development "to fully support" America's international food aid programs. The programs include the Food for Peace Program, Food for Progress, and the McGovern-Dole International Food for Education and Child Nutrition Program.
Read the House letter and the Senate letter.
These programs are funded both through USDA's Foreign Agricultural Services and the U.S. Agency for International Development (USAID). Working alongside more than 100 organizations through InterAction, NCBA CLUSA requested Congress increase appropriations for these programs to at least $2.26 billion.
NCBA CLUSA implements multiple Food for Peace and Food for Progress projects around the world. In the Food for Progress Program, NCBA CLUSA works to strengthen food systems through the USDA|Indonesia Spice Trade Alliance and the USDA Safe Agriculture/ Food Export Program (SAFE) in the Dominican Republic. In the Food for Peace Program, NCBA CLUSA works to address food security through the Wadata Development Food Security Activity in Niger and the USAID Budikadidi Project in the Democratic Republic of the Congo.
Increased funds are necessary due to staggering droughts, ongoing conflicts as well as new issues spurred by the unprovoked and unjustified Russian invasion of Ukraine, COVID-19 and other extreme climate-related events that have disrupted food supplies worldwide. USAID estimates that over 105 million people need food assistance this year.
These programs benefit not only their direct recipients but also bolster U.S. leadership around the world. International food aid programs heavily depend on American-grown and American-made commodities. Therefore, these investments strengthen food security abroad, while also increasing trade and investment partnerships among domestic producers, including cooperatives.
The President's budget request proposed investments in cooperatives for development assistance to advance U.S. interests. USAID, too, highlighted their budget priority to invest in locally-led development to better partner with "new, non-traditional, and diverse actors…to address critical development and humanitarian challenges," and include cooperatives in their subset of organizations to advance this work.
NCBA CLUSA encourages Congress to continue decades of bipartisan support for the U.S.' international food aid programs. As NCBA CLUSA President and CEO Doug O'Brien has said,
NCBA CLUSA applauds policymakers for investing in co-ops as a tool to promote more inclusive, resilient and sustainable economies domestically and around the world. We look forward to engaging with appropriators in Congress to ensure that more people are empowered to use the cooperative business model to recover from the impacts of the Covid-19 pandemic and build a more prosperous future.
Part of what makes cooperatives excellent partners for policymakers is that our businesses routinely show their readiness to act on today's most pressing crises. We can make policy more effective even as we simultaneously and independently direct resources and assistance where most needed simply because of our values. Relatedly, there is at least one current and important international crisis where cooperators can and do help today.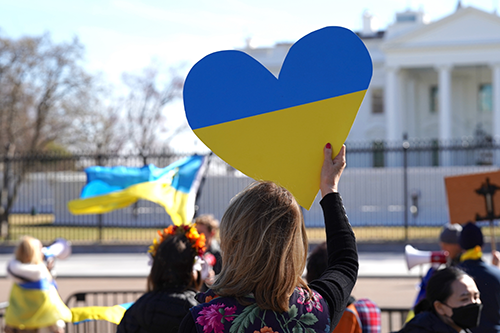 Responding to the war against Ukraine, co-ops are stepping up to provide direct support to our cooperative counterparts in Ukraine. Specifically, the Cooperative Development Foundation (CDF) has led a fundraising effort which included matches from the National Co+op Grocers and Frontier Co-op. Collectively, these partnerships have so far raised nearly $230,000 in relief for Ukrainian cooperatives. Though initial rounds of fundraising have passed, CDF is still accepting funds indefinitely. Please let people in your networks know of this chance to provide humanitarian relief and live out Principle 6.