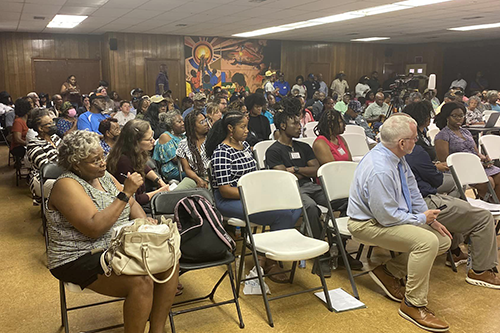 Solidarity is one of the core values of our cooperative movement, standing with one another collectively to empower each of us to build a better life. And one of the principles that best demonstrates solidarity in action is Cooperation among Cooperatives, working together within and across cooperative associations for mutual support, collaboration, and more impact for our members.
In August, representatives from NCBA CLUSA and partner organizations attended the 56th anniversary celebration of the Federation of Southern Cooperatives/Land Assistance Fund in Birmingham, Alabama. Emerging from the Civil Rights Movement in 1967, the Federation paved the way for the cooperative development movement in the South and has since grown into a cooperative association of Black farmers, landowners and co-ops with chapters in 17 states across the Southeast U.S. The Federation's vision is for sustainable rural communities based on local control and ownership and supported by a network of farmers, landowners and cooperatives, with a mission of catalyzing the development of self-supporting communities through cooperative economic development, land retention and advocacy.
NCBA CLUSA was present at the founding of the Federation and continues to see their partnership as central to the association's mission—particularly our vision for a more inclusive economy.
"This gathering continues to inspire," said NCBA CLUSA President and CEO Doug O'Brien. "More than anything, it's humbling to be reminded of the legacy of the Civil Rights movement and the amazing Federation history and continuing commitment to racial and economic justice, and to growing the cooperative economy."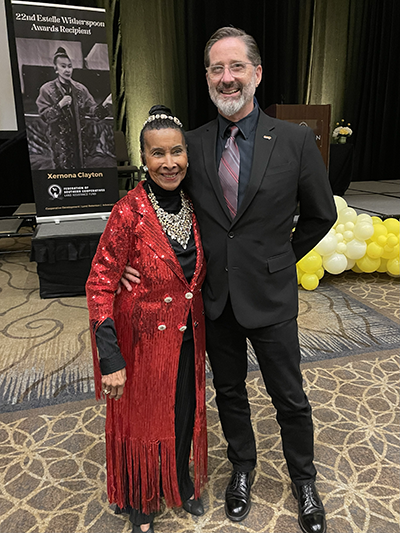 O'Brien was joined by Valeria Roach, NCBA CLUSA's Executive Vice President and CFO; Kiara McGowan, Events and Digital Communications Coordinator for NCBA CLUSA's Strengthening Co-op Capacity for Historically Underserved (HU) Farmers project; and HU Curriculum Advisory Committee Members Nicole Morris and Nicole Penick. NCBA CLUSA's delegation also counted members of its Board of Directors including Erbin Crowell, Executive Director of the Neighboring Food Co-op Association; and Christina Jennings, Executive Director of Shared Capital Cooperative. Cornelius Blanding, Executive Director of the Federation of Southern Cooperatives, also serves on NCBA CLUSA's board.
The events opened with the annual Cooperative Roundtable moderated by Terence Courtney, the Federation's Director of Cooperative Development and Strategic Initiatives and attended by cooperative leaders from across the country, including several NCBA CLUSA staff and board members. The focus of this year's conversation was on the infrastructure needed to support new cooperatives, as well as the need to focus on succession strategies at established cooperatives so that the cooperative continues to thrive and serve its community.
That evening's reception at the Birmingham Civil Rights Institute was a reminder of how far we have come in the struggle for social and economic equity and inclusion—and how much more there is to do. The Annual Estelle Witherspoon Lifetime Achievement Award Dinner provided an opportunity to celebrate and honor people integral to advancing the work of civil and economic rights.
This year's honoree, Xernona Clayton, epitomizes the true spirit of community and cooperation, and the struggle for civil rights.
Xernona moved to Atlanta in 1965 where she accepted a position with the Southern Christian Leadership Conference and worked closely with the late Dr. Martin Luther King, Jr. Clayton also traveled extensively with Mrs. Coretta Scott King on her nationwide concert tours. Dedicated to promoting racial understanding, she has been a leader in civic projects and civil rights activities for many years. Her persistent fight against prejudice and bigotry was never more apparent than in 1968 when the Grand Dragon of the Ku Klux Klan denounced the Klan and credited Xernona's influence with his change. Ms. Clayton's dedication to the community is reflected in the many hours she spends promoting human relations through biracial groups devoted to improving racial understanding. A recipient of numerous media awards, Xernona has been widely honored for her contributions to humanity. Xernona Clayton's autobiography, "I've Been Marching All the Time," was published in 1991.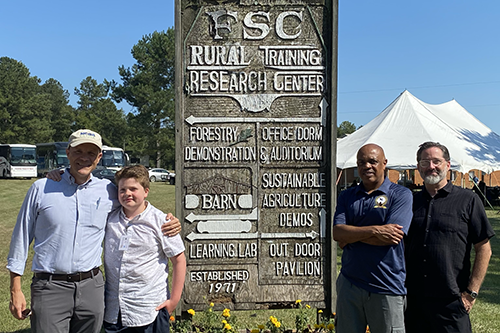 The next day included a journey to the Federation's Rural Training Research Center in Epes, Alabama, where co-ops and their members and partners gathered for a day of workshops, policy dialogs and a panel of representatives from the U.S. Department of Agriculture (USDA) presenting information on the latest developments in programs supporting family-sized farmers.
The existence of the Center itself speaks to the struggle for justice and the power of association in enabling people to work together for a better future. In the 1960s, when sharecroppers were driven from their homes in retaliation for participation in voter registration efforts, one group formed a land buying co-op, pooling limited resources to purchase land. One of these properties was later acquired by the Federation and converted into a conference and training center in 1971. During the visit, O'Brien and Crowell also had the opportunity to join Cornelius Blanding on a tour of the Training Center and demonstration plots, as well as nearby housing and health co-ops that are part of the Federation.
"The success of the Federation is a testament to the power of cooperatives and co-ops working together through associations to empower their members," Crowell said. "Their work has not only made a profound difference in their communities but has also inspired efforts for racial and economic justice and cooperative development around the world."
Learn more about the Federation of Southern Cooperatives/Land Assistance Fund