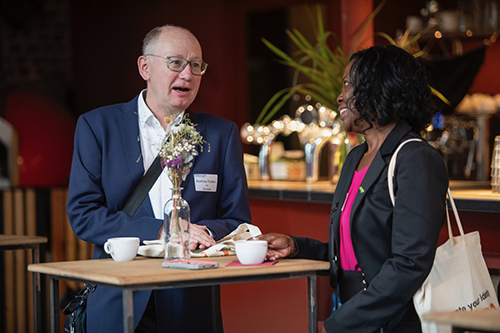 Cooperators from around the world gathered in Brussels, Belgium on June 28, 2023 for the General Assembly of the International Cooperative Alliance (ICA). Over 220 delegates from more than 60 countries participated in the event, which was open to attendees from ICA member organizations. NCBA CLUSA was represented by Val Roach, Executive Vice President and CFO, and Erbin Crowell, member of the NCBA Board of Directors and Executive Director of the Neighboring Food Co-op Association (NFCA).
"It was an honor to represent NCBA CLUSA in Brussels," said Crowell, who also serves as a member of the ICA's Cooperative Identity Advisory Group. "Participating in the General Assembly was an inspiring reminder of the amazing diversity and unity of the international cooperative movement as we work together to build a more inclusive, sustainable and democratic future."
Welcoming delegates, ICA President Ariel Guarco said, "I want to thank you for being here and for having travelled from all over the world to take part in this Assembly—such an important moment for all cooperatives—where members meet democratically to evaluate the tasks accomplished and plan the way forward."
In addition to regular business, delegates approved revisions to the ICA's Articles of Association (AoA) in order to comply with recent updates to the Belgian Code on Companies and Associations. The ICA also took this opportunity to make improvements its governing documents to ensure consistency and good practice.
"Governance of an organization bringing together so many sectors, nations, and cultures can be complicated," Roach said. "But in the end, it was a smooth process that will provide a good foundation for the future."
The Assembly also approved newly elected representatives of sectoral organizations on the ICA Board of Directors, including Prof. Petar Stefanov, nominated by Consumer Co-operatives Worldwide (CCW), Giuseppe Guerini, nominated by International Organisation of Industrial and Service Cooperatives (CICOPA), Bhima Subrahmanyam, nominated by International Cooperative Banking Association (ICBA), and Not Dong-Jin, nominated by International Co-operative Fisheries Organisation (ICFO). Dr. Graciela Fernández Quintas, President of Cooperatives of the Americas, was ratified as ICA Vice President, having been recently elected by the ICA Regional Assembly for the Americas. View the current members of the ICA Board here.
The General Assembly featured a ceremony recognizing the Korean National Agricultural Cooperative Federation's (NACF) generous donation to the ICA in support of the international cooperative movement. The gathering was also addressed by Illia Gorokhovsky, President of the Ukrainian cooperatives organization and board member of Cooperatives Europe, who expressed his heartfelt thanks to cooperators around the world for their support for Ukrainian cooperators during the war.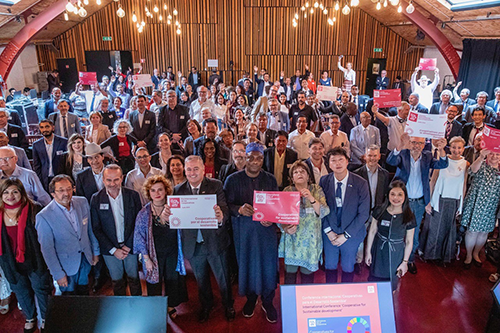 Attendees were also invited to support International Day of Cooperatives celebrations, inviting cooperatives and their members to highlight their contributions to the UN Sustainable Development Goals, and take advantage of new tools that have been developed to help co-ops engage in the ICA's Cooperative Identity Consultation.
Mr. Guarco concluded the General Assembly 2023 by inviting delegates to next year's General Assembly in New Delhi, India, hosted by the Indian Farmers Fertiliser Cooperative Limited (IFFCO).
"We're very excited that the General Assembly will be held in India in 2024, and particularly that it will be hosted by our colleagues at IFFCO," said Doug O'Brien, president and CEO of NCBA CLUSA. "The U.S. and Indian cooperative movements have a long history of friendship and collaboration, and we look forward to recommitting to our partnership when we gather in New Delhi."
Founded in 1967 with support from NCBA CLUSA and U.S. agricultural co-ops, IFFCO began with just 57 member cooperatives. Today, it is one of the largest co-ops in the world with around 35,000 member co-ops reaching more than 50 million Indian farmers and is included in the Fortune India 500.