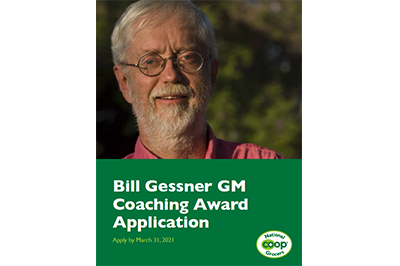 National Co+op Grocers this month launched an annual award program to honor the life and memory of one of food co-ops' most generous mentors.
Applications are now open for the first-ever "Bill Gessner GM Coaching Award," which will celebrate the life and career of Bill Gessner, who worked with more than 300 co-ops over 25 years as both a consultant and mentor.
The award is open to all food co-op general managers nationwide—including and beyond NCG-member co-ops. Each year's recipient will use the $3,000 award to access leadership coaching services to achieve identified goals and outcomes and enhance that general manager's professional abilities.
"Bill, who passed away January 2019, was the consummate co-op coach," said C.E. Pugh, CEO of NCG. "In his work and life, he created a trustful environment, provided encouragement and support to co-op leaders, offered guidance and inspiration to all co-op team members and never lost his sense of wonderment and of human capability."
"This award is to honor and remember Bill's commitment to—and support of—professional development, and we look forward to many years of his legacy continuing to have a positive impact on our co-op leaders and the entire co-op sector," Pugh added.
Food co-op general managers can learn more about how to apply for this year's grant on NCG's website. Applications must be submitted by March 31, 2021.
Learn more  Submit an application
The spirit of generosity is a gift. To give is to trust. To give is to invest. To give is to receive. Through giving, we learn about the concept of abundance. Our world is not limited. The spirit of generosity helps us see the world as unlimited, with infinite potential… If we believe in the values of cooperation—honesty, justice, equity, etc.—and if we believe that the world would be better if more people acted on these values, then we should act on them with each other." – Bill Gessner (1947-2019)