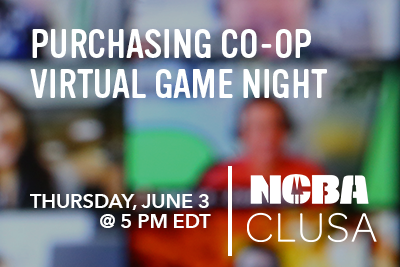 Join your colleagues and NCBA CLUSA's Membership Team on Thursday, June 3  at 5 p.m. EDT for a
Purchasing Co-op Jeopardy Game Night
hosted by Jeanne Matson, Consultant at
CCA Global Partners
and the retired President and CEO of
Starnet Commercial Flooring
.
This event is your first opportunity to celebrate the launch of the CoMetrics Purchasing Co-op and Buy Group Benchmarking Survey! First conducted in 2017, this survey provides purchasing co-ops with critical benchmarking data, allowing purchasing co-op executives to compare their performance with industry standards and make strategic, data-driven decisions. NCBA CLUSA is proud to partner with CoMetrics to deliver this benefit to purchasing co-op members.
During this event, learn how you can benefit from the survey, network with your purchasing co-op colleagues and join in a game of Jeopardy. Categories include purchasing co-op benchmarking trends, independent business impacts, rebates, bourbon craft cocktails and more!
Created by NCBA CLUSA, purchasing co-op game nights are designed to provide members with an opportunity to network and learn in a fun and engaging virtual environment.