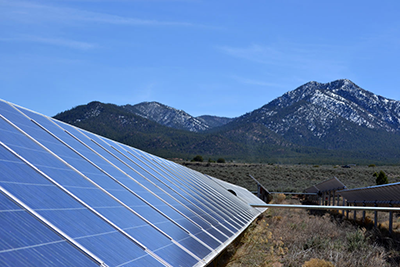 Kit Carson Electric Cooperative is nearing its goal of 100 percent daytime solar energy by 2022 as a new state law calls for zero-emission generation for New Mexico utilities by mid-century.
The Taos-based co-op broke ground August 5 on three solar energy farms that will provide 6 megawatts of capacity by the end of this year.
The projects will bring KCEC's solar portfolio to 16 MW, half the daytime power demand of its 30,000 members.
"Kit Carson is continuing to meet our commitment to our members for a more affordable, reliable, renewable and resilient future," said CEO Luis Reyes Jr.
A state law enacted this year sets a renewable energy standard for New Mexico investor-owned utilities and rural electric cooperatives of 50 percent by 2030 and 80 percent by 2040. The law further mandates zero-carbon standards for IOUs by 2045 and for co-ops by 2050.
KCEC is working with solar developer Syncarpha Capital to build arrays of 1.5 MW in Sunshine, 1.5 MW at the Northern New Mexico College in El Rito, and 3 MW at the Taos Regional Wastewater Treatment Plant.
The co-op is also pursuing solar projects with battery storage integration in Taos and Angel Fire.
Reyes said solar, storage and wind strategies could help the co-op achieve its ultimate goal of a carbon-free energy portfolio more than 20 years ahead of the new law's requirements.
"We are now focused on storage in our next phase and visiting with wind developers on importing wind by 2025," Reyes said. "With energy storage combined with solar power and wind energy contracts, Kit Carson will be on track to meet the state law in 2027."