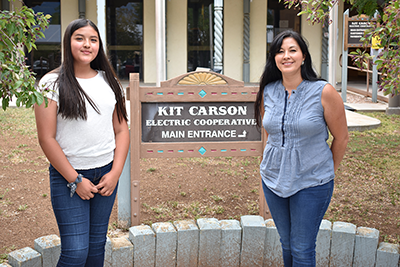 For Monet Winters, the COVID-19 pandemic created a lot of hurdles for her to complete eighth grade at Santa Fe Indian School.
With school buildings closed in March and no reliable internet service at her home on the Taos Pueblo in New Mexico, Monet waited for large paper packets of schoolwork from her teachers to arrive by mail.
The 13-year-old tried to log on with her mother's phone or Wi-Fi at her grandmother's house, but was hampered by spotty service, distractions and data limits.
"It was pretty challenging," Monet said. "I wasn't able to do my schoolwork online. I was struggling."
Enter Kit Carson Electric Cooperative.
Working with the five school districts in its service territory, the Taos-based co-op's broadband division identified students in need and provided free internet connections to more than 150 homes, including 14 on tribal land.
Now, Monet says she enjoys "being able to reach my classes online and doing Zoom with my teachers. I'm able to reach sites faster and able to do my work without having to constantly look for places to do it. I can do it right here in my home."
The families pay $24.95 a month for basic broadband service, but the connection and wireless router were free.
"For them, it was a shot in the arm, getting them connected, having their kids not left out," said Luis Reyes Jr., Kit Carson's CEO. "We treat all members the same. If a tribal student is low-income, we figured out a way to get them a drop."
The co-op hired contractors to complete an aggressive schedule for connecting homes with rising seniors or multiple students. A CoBank line of credit helped finance deployment.
Reyes said reaching some tribal homes was particularly challenging. Running fiber on Native lands requires installing cable underground and working around rough terrain to reach remote locations. It also means working with tribal leaders and hiring contractors who understand local customs.
"We had these positive relationships in place," Reyes said. "These things can take months or years. We're very proud of what we were able to accomplish."
Lillian Torrez, superintendent of Taos Municipal Schools, lauded Kit Carson for taking on the challenge of connecting students in need.
"There were a few difficulties, but they didn't give up," Torrez said. "Some of the students live in areas where it was difficult to connect, and they had to dig trenches. Kit Carson just did whatever they needed to do."
Of the families who received the free in-home connections, Reyes estimates about 75 percent will keep the service long after their children finish school.
"There is a risk in doing this, but I think it is worth taking," Reyes said.
Kit Carson also announced it is making permanent 22 free public Wi-Fi hotspots it set up across its territory in response to the pandemic, including three on the Taos Pueblo and two on the Picuris Pueblo.
"We have them at city parks, community centers, low-income housing—basically everywhere. We did work with school districts, municipalities and tribes to determine where the best spots were," Reyes said.
Reyes said Kit Carson has taken a hit in electricity sales since the pandemic shut down local ski slopes and schools. He sees broadband as a new opportunity to serve.
"This [pandemic] is really going to change the way we do business and make broadband one of the elements of doing business," he said. "It has made us think more about how resilient our rural communities are going to have to be."